Medium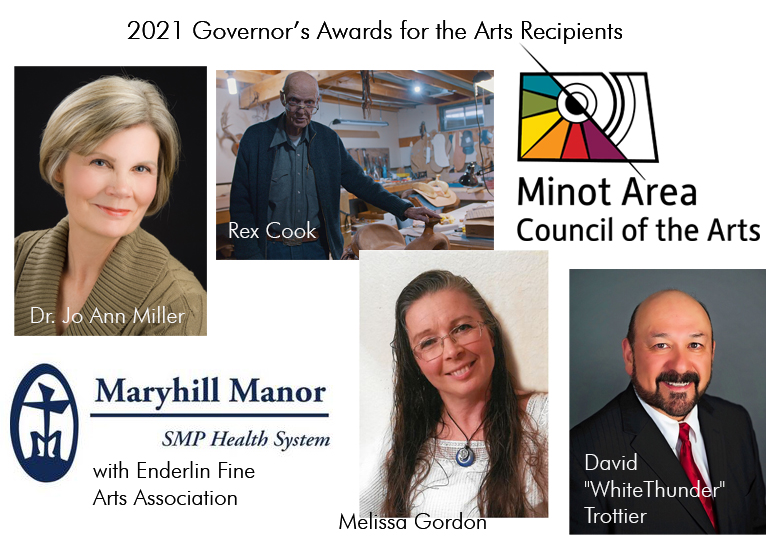 Recipient Bios
Medium
h3
Recipient Bios
Dr. Jo Ann Miller
Jo Ann Miller joined the NDSU faculty in 1989 as director of choral activities. She conducts the Concert Choir and teaches undergraduate and graduate choral conducting and literature courses. She is also the Music Graduate Coordinator for a flourishing program which offers the Master of Music and Doctor of Music Arts degrees in performance and conducting. Miller is the chorus master of the Fargo Moorhead Symphony Orchestra and artistic director of the NDSU Baroque Festival. She is active in the American Choral Director's Association, having completed a term as president of the North Dakota chapter, the six-state North Central Region and a 9-year term as the National Treasurer and executive board member for ACDA.
The NDSU Concert Choir tours regionally during spring break every year and internationally every three years. In 2012 they were awarded the first prize Golden Cross at the Zadar, Croatia International Choir Competition. They also record annually with more than 30 compact discs.
Since 2000 the Concert Choir has participated in the NDSU Baroque Festival with annual performances of Handel's Messiah. The regularly perform with the Fargo Moorhead Symphony Orchestra in their spring choral/orchestral concerts.
In addition to campus activities, Dr. Miller is a frequent guest conductor and clinician throughout the United States. In 2010 Miller established the Fissinger Choral Composition Prize, in honor of her mentor, Edwin Fissinger. The winning compositions of this competition are published in the Jo Ann Miller Choral Series, published by Pavane Publishing.
Honors and awards include:
2013 – NDSU Faculty Lectureship Award
"The honor, which is one of the oldest and most prestigious of the university's awards, recognizes sustained professional excellence in teaching, scholarly achievement and service."
2008 – Named University Distinguished Professor
"Becoming a University Distinguished Professor is the highest honor that can be awarded to a faculty member at North Dakota State University. A University Distinguished Professor is expected to have demonstrated, and is expected to continue to model, the high ideals of a student-focused, land-grant, research university. In addition, a University Distinguished Professor is expected to demonstrate the highest standards of good character, academic integrity and university leadership, and to demonstrate a significant impact beyond their own individual program."
2007 – Arts Advocate Award – Lake Agassiz Arts Council
2004 – North Dakota Outstanding Choral Director – awarded by the North Dakota chapter of the American Choral Directors Association
2000 – Induction into Phi Kappa Phi
1998 - Distinguished Educator Award - NDSU Blue Key Fraternity
"The award was created in 1969 by Blue Key to honor an outstanding educator at NDSU for his or her extra interest in students and their problems, education, field of expertise, and NDSU. The educator must have shown outstanding qualities especially in helping students above and beyond what it required."
1998, 2004 - Bison Ambassadors Apple Polisher Award
NDSU Outstanding Service Award, College of Humanities and Social Sciences, 1996
NDSU Outstanding Academic Advisor, College of Humanities and Social Sciences, 1995
NDSU Mortar Board Preferred Professor, 1991, 1993, 1995, 1998, 2001, 2002
Rex Cook
Born on his parents homestead north of Sentinel Butte in 1928, Rex Cook personifies the quintessential "renaissance man". He broke his first horse at age 12 and bought his first ranch land when he was just 14. After graduating from high school, he started teaching with an emergency teaching certificate at the Goldsberry Country School, north of Medora.
Cook entered the calf roping and wild horse race contests in his first rodeo that same year while also announcing the rodeo. The course was set, he divided his time between rodeo arenas and corals, and schoolhouses.
Before making saddles, he learned leatherwork by making bridles and belts and leather carving. Over the years and to pay his way through college, he learned saddle making, by studying with experienced saddle makers and reading books. Cook has created well over 100 saddles and was honored to demonstrate his craft on the State Capitol grounds during the 1989 centennial celebration.
After a stint in the military, Cook returned to Dickinson and began a career in the Dickinson Public Schools and as manager of the Dakota Clay Products Company. All the while, Cook maintained a steady interest in horsemanship and rodeos – riding, training and selling cutting horses, and promoting team roping as a rodeo event. He taught horsemanship classes and along with Tex Appledoorn, produced the 1958-59 North Dakota Team Roping Championship in Belfield.
Rex was inducted into the ND Cowboy Hall of Fame in 2010, recognizing his importance to the cultural environment in Western North Dakota. He served as a NDCA board member for the Dickinson region for five years, giving thoughtful and astute advice. He has willingly shared his vast knowledge and expertise with young people of all ages, formally through teaching at Dickinson State College and informally to friends and neighbors throughout the region. His work has been recognized in the exhibit and publication "Prairie Patterns", in a North Dakota Fine Crafts exhibit at Bismarck Art & Galleries Association, and one of his saddles is included in NDCA's permanent collection.
Rex is a perfect example of Western culture – ranching, roping, creating and teaching leather arts. He is one of the most well-respected individuals in Western North Dakota. He has been a Master in the Folk and Traditional Arts Apprenticeship program through NDCA since 1992, teaching the art of saddle making to several individuals. His mentoring allowed several individuals to start their own leather goods business and to continue the traditional craft of saddle making by becoming mentors themselves. He fits the criteria of "Creating an appreciation for North Dakota's cultural heritage" to a tee. He has spent over 60 years serving his region and created business and life skill opportunities for a multitude of individuals.
Minot Area Council of the Arts
The Minot Area Council of the Arts got its start in 1973 as members of the local Chamber of Commerce wanted to form a group that could put together information on all of the arts events that took place in the Minot area. Five years later, in 1978, the Minot Area Council of the Arts became an independent nonprofit 501(c)3 organization. In the more than 40 years since, we expanded from a group in charge of a central arts calendar, to an organization full of life and vitality, creating programing, artistic opportunity, and arts advocacy. The Minot Area Council of the Arts created Arts in the Parks, a summer concert series full of free, family friendly concerts including featured visual artists. In the midst of a pandemic, we were able to celebrate 35 years of Arts in the Parks with impressive attendance, and record setting donations.
In the fall of 2019, we began a new concert series with Arts in the Library, bringing the same format of fun, art, and music inside at the Minot Public Library. Recognizing a universal desire and need to get youth involved in the community, we created the Minot Area Council of the Arts Youth Advisory Committee (MACA-YAC) in January of 2020. The energized students involved in MACA-YAC were preparing to run their own concert event, an end of the school year karaoke party, a downtown food crawl, and summer concerts at Arts in the Parks when the pandemic put a hold on their activities.
In the spring of 2020, when public activity all but ceased in North Dakota, we initiated our "Stay Home, Make Art" series, calling on local artists to add those words to a piece of art of their creation. Many Minot artists responded with enthusiasm, and their work was displayed on digital billboards around Minot, as well as on the Minot Area Council of the Arts' social media pages. Over the years we have had many other activities and events that have come and gone and kept our organization lively and vibrant. At its heart, the Minot Area Council of the Arts exists in dedication to our members and our community.
We strive to promote and support our members and do what we can to showcase the amazing arts community we have in Minot. We are also hitting the ground running in 2021. We have unveiled a new logo using a local artist and member to do the design. We released a new website with better member exposure and events listings. We announced a grant opportunity available to our members, with a potential second round available to nonmembers, thanks to an Arts Midwest Resiliency Grant we were fortunate to receive. We added high quality recording and online streaming equipment to our inventory for use to our members thanks to that same grant, and are making plans to provide professional development training opportunities as well.
The coming months will be filled with even more exciting announcements as we prepare for summer programming changes and a completely new program, and we are in talks with Arts Midwest to bring World Fest to the Minot Community in 2022. We have many exciting things happening at the Minot Area Council of the Arts.
Maryhill Manor with Enderlin Fine Arts Association
The Art for Life Program brought the Enderlin Municipal Fine Arts Association and Maryhill Manor, Enderlin's skilled nursing facility, together in 2012. They have worked well together and forged a partnership with the purpose of enriching the lives of the elderly in our community through the Arts. In doing so they have expanded art opportunities to not only the residents of Maryhill Manor, but also to the area children and community members.
The partnership began in 2011 when Myrene Peterson, a EMFAA member, was approached by Troyd Geist wondering if Enderlin would be interested in the North Dakota Council on the Arts' Art for Life Program. The EMFAA and Maryhill Manor both expressed interest. A committee was formed with representation from both organizations and continues to meet regularly to plan and oversee activities. Members of this committee are: Matt Arhndt, Katie Oehlke, Wendy Flatt, Wendy Anderson, Nancy Farnham, Myrene Peterson, and Lollie Adair.
The NDCA Art for Life Program grant is a two-part grant that spans an 18-month period. During the 6 months when grant funding is not provided, the EMFAA funds the activities. The two organizations have jointly sponsored shared art experiences with the community such as traditional animal hide drum making, barn quilts, and needle felted wool projects. Activities In which children and residents blended their talents, ideas, and skills include creating paintings, clay sculptures, and beautiful mosaics during summer Art Day Camps and through the monthly sharing between the 4th grade students and Maryhill residents. Another example of this integration happened when the Enderlin High School's summer drama program met at Maryhill. The students helped teach the residents about different skills used in drama, visited with the residents about their lives, and then created a very moving play using experiences from the residents' life histories. These shared experiences have built connections, a sense of belonging, and many pieces of beautiful artwork.
The coronavirus pandemic posed some unique challenges this year with its isolation, quarantining and social distancing. Many group activities with artists, residents, and students had been planned. When strict restrictions were set in place, the staff and artists brainstormed and developed adaptation that allowed most of these activities to proceed. Some of the highlights of this year have been: having the song, "Listen to the Wise" written and published by North Dakota's own Chuck Suchy based on his conversations with the residents, using video-conferencing for the monthly visits between the 4th graders and the residents, and individual kits for clay snowflake ornaments and Christmas tree nightlights.
Together these two groups continue to use the arts to make connections and build relationships throughout the generations and the community.
Melissa Gordon
Melissa Gordon has been an artist all her life, selling her first commissioned work at 12 years of age. She has won numerous awards for her realistic renderings around the state and has many works in private collections across the country.
Recently, she has become known for large-scale work done around the Bismarck-Mandan area, including her mural of Sitting Bull in Alley 5.5 which was featured on the cover of Parade Magazine as one of the best mural in North Dakota and the Goddesses at Glance - a mural that stretches half a city block in downtown Bismarck.
She is the 2016 Citation Award recipient at Bismarck Arts and Galleries and was won several Best of Show Awards with her work.
Melissa also enjoys teaching and has taught in a variety of settings to age groups ranging from kindergarten to senior citizens and has a special interest in at-risk groups and the elderly.
She has served as a board member of Mandan Art Association, Dakota West Arts Council, BSC Alumni Board and was appointed to the North Dakota Council on the Arts in 2015 by Governor Jack Dalrymple.
In addition to her work as an artist, she is also an active member of the community and does volunteer work for many area organizations including Bismarck Arts and Galleries Association, Dakota West Arts Council, Special Olympics, Burleigh County Senior Center and Arts For All.
David "WhiteThunder" Trottier
David "WhiteThunder" Trottier was born in Devils Lake ND on January 31, 1956 the second son of Wayne and Adeline WhiteThunder Trottier and is an enrolled member of the Standing Rock Sioux Tribe of Fort Yates ND with lineal descendancy to the Turtle Mountain Band of Chippewa of Belcourt ND.
His early years of schooling were at the St. Michael's Indian Mission, Devils Lake Public Schools, and the St. Ann's Indian Mission in Belcourt. Trottier graduated from Belcourt High School in 1973 and was a 3 sport athlete in high school competing in football, basketball and baseball. He went on to Mayville State University after high school and graduated with a composite major in English and minor in Psychology in 1977. David was a 4 year letter winner on the Mayville State Football team.
Trottier spent the early years of his working career with DLSMC/Brunswick, International Paper Co, and Sterling Drug Inc. Upon returning to North Dakota in 1983 David was a business consultant and college speech teacher at both Lake Region College in Devils Lake and Little Hoop College in Fort Totten.
His interest in the arts began as a child being exposed to theatre at the Fort Totten Little Theatre as he was friends with founder Beth Johnson's son Bob. His friendship with Bob Johnson began at age 4 and has been lifelong.
In the spring of his freshman year at Mayville State David attended the campus spring musical production of "Damn Yankees." This was enough to re-inspire him to take part in the theatre productions during his sophomore, junior and senior years. He was awarded Best Actor in a Play and Best Actor in a Musical in his senior year.
David continued to partake in theatre where-ever he lived in the country including Michigan and Kansas. Upon returning to North Dakota his interest in theatre continued and led to being highly active in the Devils Lake Pioneer Players as an actor, director and eventually President of the organization. It was in the 1990 that he received a phone call from then Governor George Sinner's office informing him the Governor would like to appoint him to an unexpired position on the board. He accepted and this began a continuous service on the start arts board that was unequalled in the state or in the country. In 1998 Governor Ed Schafer appointed David as Chairman of the North Dakota Council on the Arts making him the first Native American Chair in North Dakota and in the country. David continued in this position until his resignation from the board in January of 2020. His total 30 years of service on the board made him the longest serving state arts council board member in the North Dakota history and in the United States. His service as Chairman of the Board of the NDCA made him the longest serving arts council chair in ND history and in United States history. All in all David served for over half of the existence of the National Endowment for the Arts (founded in 1966 and over half of the existence of the North Dakota Council on the Arts, founded in 1967. During this tenure David served under 5 Governors.
From 1992 to 2006 David served as President and C.E.O. of Chiptronics, Inc. in Dunseith, ND, taking the company from $7 million in annual sales to over $40 million in sales in less than 10 years. In 1997 and 2005 David was nominated by IBM as the National Indian Business Owner of the Year through the National Center for American Indian Business Development.
In 2002 David was named the North Dakota Business Innovator of the year in North Dakota through the UND Center for Innovation. That same year he was named a Distinguished Alumni at Mayville State University and was the commencement speaker at the 2002 graduation ceremonies. In 2007 David was given the Distinguished Public Service Award from the National Assembly of State Arts Agencies and in 2017 was inducted in the Mayville State University Performing Arts Hall of Fame.
David's proudest accomplishments in his life are the 4 daughters he raised Tarah, Tawny, Trista and Tashal.
David is currently "retired" and living in Rugby ND and working part time for Rugby Broadcasters and does a morning radio show.