Medium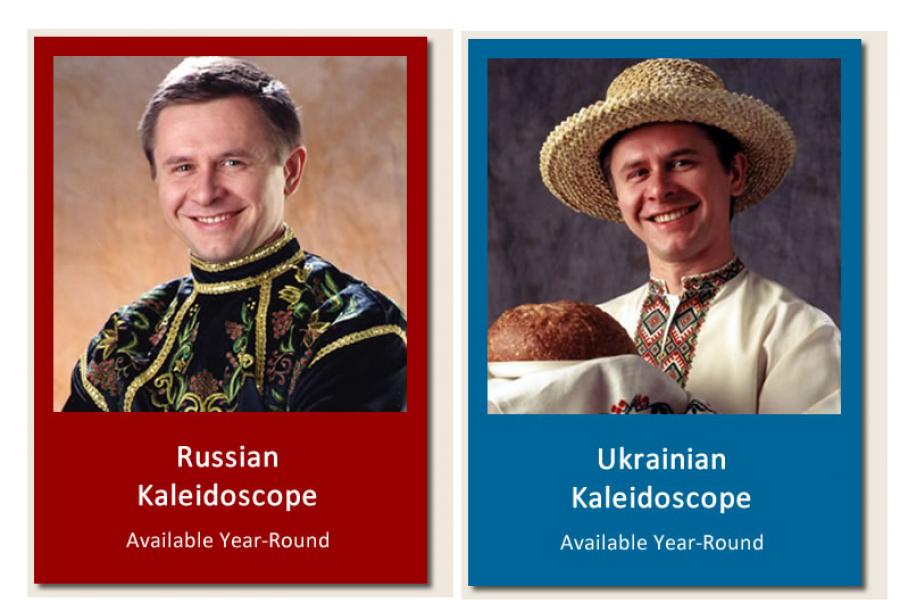 Medium
General Artist Information
Name: The Cultural Kaleidoscope
Artist Discipline: Folk
Grade Level Preference: K – 12th
Address: Kansas City, MO
Geographic Availability: Statewide
Fee per-day: Negotiable
Email: margietritt@kc.rr.comPhone Number: 816-363-6547
Web site: www.culturalkaleidoscope.org
Biography
Since 1991, The Cultural Kaleidoscope has been bringing the world's cultures to classrooms throughout the Midwest. Our teaching-artists are full-time professionals. We currently have programs about Russia and Ukraine. Our presenters and content continuously enjoy rave reviews from educators, parents and students alike.
Teaching Philosophy
Culture matters! Educators are preparing students to enter a world that is more interconnected and diverse than ever before. Their ability to thrive will depend on many things, not the least of which is their active engagement in opportunities to learn about and appreciate the richness of other cultures through hands-on learning. Our programs help students understand the visual arts and music in relation to history and culture.
Sample Residency Information
Residency Title: Cultural Kaleidoscope Residency
Grade Level: K-12
Number of Sessions: 5 days
Description
Exposing students to other cultures in ways that create lasting impressions and understandings has never been more important. The world they are entering is interconnected and diverse. Each Cultural Kaleidoscope residency introduces students to the respective culture through authentic music and dance, history, geography, language, art and cultural traditions. The residency culminates with a never-to-be-forgotten student performance for the community. Educators can expect their students to be fully engaged and active participants. Students will be excited to learn through songs, unique music instruments and ethnic dances. They will be full of questions and gain insight into a culture from the other side of the world. Each Cultural Kaleidoscope residency is lead by a teaching-artist from the specific country who is a professional in the arts. Our complementary "Teaching Resource Guides" enhance the educational experience. The easy to use lessons help teachers prepare their students for the Kaleidoscope experience. The program-specific teaching guides can be reviewed on our website.
Cultural Kaleidoscope Residencies
Ukrainian Kaleidoscope
Russian Kaleidoscope