Medium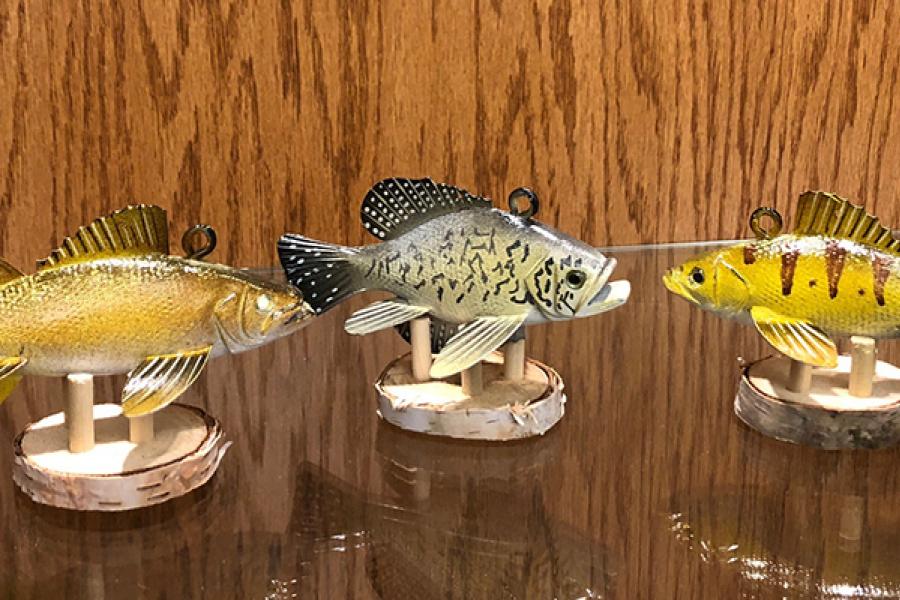 $40.00
NDCA's twelfth annual Special Edition Ornament is now available. Rick and Connie Whittier of Lidgerwood, ND, were commissioned to create one-of-a-kind functional spear fishing decoy holiday ornaments. The limited-edition decoy ornaments are hand-carved and individually painted by Rick. These three hyper-realistic species have hooks for use as a tree ornament. They make wonderful gifts or decor for art lovers and fish enthusiasts of all kinds! Each fish (4.5-5.5" in length) is a limited edition, numbered and signed by the artist.
The commission of this ornament offers the opportunity to purchase a unique Christmas ornament, while investing in the arts across the state. Each ornament sells for $40.00; or $105 for a Trio Set (one of each fish), a savings of $15. These prices include a gift box, tax, shipping and handling. Display stands are available for an additional $3.00 each. $15.00 of the purchase price of each ornament can be used as a tax-deductible donation to the North Dakota Cultural Endowment Fund. The Fund was created by the State Legislature in 1979 to assist NDCA in providing artistic opportunities for citizens throughout the state.
If you would like to purchase a Special Edition Ornament call NDCA's office at 701-328-7590. A limited amount of ornaments will be available for purchase at the North Dakota Heritage Center gift shop.
BIO
Rick Whittier of Lidgerwood, ND is the world's largest creator of handmade, realistic spear fishing decoys. His decoys are all hand-carved from white pine lumber and painted one at a time with aerosol spray paints. They are then touched up with a paintbrush with species-specific fin-striping and spots. All the decoys are functional, weighted and balanced for wonderful swim action as a spear fishing decoy and are also highly collectible for display and as gifts.
Rick also enjoys carving large fish for collages and mounting them on driftwood picked from local lakeshores. He had an exclusive display at the North Dakota State Capitol in the past. These fish decoys represent only a small portion of the different species he carves. There are nearly 400 distinct fish he has carved over the past 13 and a half years.
His work has been archived in the North Dakota Heritage Center & State Museum. One of Rick and Connie's proudest moments has been to co-instruct the Art for Life program. This North Dakota Council on the Arts program enables the Whittiers and other state artists to visit assisted senior living residences and care facilities in North Dakota. While providing education about spear fishing and decorating the fish, the elders exhibit engaged behavior as memories are shared.
Rick has earned over 80 awards in decoy carving competitions and has been featured on several local and national television shows including: Made for the Outdoors, Minnesota Bound, Backroads with Ron & Raven, Due North Outdoors, Off the Beaten Path, Ag Day, Valley News Live and the Minot Daily Show. For more information, visit https://www.youtube.com/watch?v=TKDZos1ZcBY and start at 6:09.