Dr. Denise Lajimodiere 2023-2025
Medium
h3
Dr. Denise Lajimodiere 2023-2025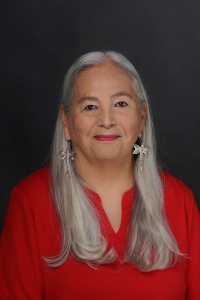 Dr. Denise Lajimodiere is an enrolled Citizen of the Turtle Mountain Band of Chippewa, Belcourt, North Dakota. She has been involved in education for forty-four years as an elementary teacher, principal, and professor, earning her Bachelor's, Master's, and Doctorate degrees from University of North Dakota. Dr. Lajimodiere is a retired Associate Professor from the School of Education, Education Leadership program, North Dakota State University, Fargo.
Denise is one of the founders of the National Native American Boarding School Healing Coalition (N-NABS-HC). She is a poet – Dragonfly Dance; Thunderbird; Bitter Tears; His Feathers Were Chains; children's book author, Josie Dances, and academic book author, Stringing Rosaries: The History, The Unforgivable, The Healing of Northern Plains Boarding School Survivors.
Dr. Lajimodiere is a traditional Jingle Dress dancer, Ojibwe Birch Bark Biting artist, and lives in a cozy cottage by a lake on the Turtle Mountain Indian Reservation.
About the Program
Medium
h3
About the Program
North Dakota has named a Poet Laureate since 1957. The honorary post promotes reading, writing and an appreciation of poetry through public appearances and teaching opportunities across the state.
For More Information
Medium
h3
For More Information
Past Poet Laureates
Medium
h3
Past Poet Laureates
Larry Woiwode 1985-2022
Larry Woiwode, 1941-2022, was born in Carrington, ND, near his hometown of Sykeston. In 1950, his family moved to Illinois. His writing career began in New York City and by 1966 he was publishing stories and poetry in The New Yorker. His work also appeared in The Atlantic, Esquire, Harper's, and The Paris Review.

Woiwode authored five novels, including What I'm Going To Do, I Think (1969), Beyond the Bedroom Wall (1975) and Born Brothers (1988), besides books of short stories, poetry and non-fiction. He was a Guggenheim Fellow, a John Dos Passos Prize winner, a recipient of the William Faulkner Foundation Award, and the Medal of Merit from the American Academy of Arts and Letters. He also was a finalist for both the Book Critics Circle and the National Book Awards, and appeared in four volumes of Best American Short Stories.
Larry Woiwode died in April 2022 in Jamestown, North Dakota.
Larry Woiwode named the following Associate Poet Laureates:
Madelyn Camrud
Heid Erdrich
Louise Erdrich
Dale Jacobson*
Denise Lajimodiere
Jamie Parsley
Shadd Piehl
Dave Solheim
Bonnie Larson Staiger
Warren Sturlaugson
Mark Vinz
Ron Vossler
Rick Watson
*Also named Honorary Poet Laureate of North Dakota, March 2005
Corbin A Waldron 1957-1978
Corbin Ara Waldron was born January 7, 1889, in Independence, Iowa. He graduated from Mandan High School, after which he joined the United States Army. He enlisted August 21, 1918, at Fort Sheridan, Illinois. He served in the Student Army Training Corps at Fargo College until his discharge on December 13, 1918.
Following World War I, he attended Fargo College, graduating in 1922 with a Bachelor of Arts. In 1927, he obtained a law degree from the University of Minnesota and was admitted to the North Dakota Bar in 1928. He settled in Minot where he founded the firm of Waldron, Kenner, Halvorson, and Sturdevant. During his forty one years as a lawyer, he served as president of the Ward County and Minot Bar Association. He was a member of the North Dakota Bar Association, the American Bar Association, the University of Minnesota Alumni Association, Toastmasters International, and served as chair of the Ward County Republicans. Waldron was interested in civic affairs and served on the board of directors for the Minot YMCA, the Heartview Foundation, and the board of trustees for the Minot Presbyterian Church.
Using the pen name "Dakota Cal", he wrote seven books: Lines from Dakota, Lines and Lyrics from Dakota, Falling Leaves, Quasi-Legal Tender, Footprints in America's Fields, Adventures of Pedro the Polar Bear, and Voice of the Valley. He also composed several hymns along with numerous melodies. In 1957, he was named Poet Laureate of North Dakota by the State Legislature and became a member of the United Poets Laureate International of Quezon City, Philippines. He was awarded an honorary Doctor of Laws from the Free University of Asia, Karachi, Pakistan, in 1969.
Corbin A. Waldron died in April 1978 in Minot, North Dakota. (University of North Dakota Library, 2010)
He named the following Associate Poet Laureates:
Henry R. Martinson
Lydia O. Jackson