Medium
Enjoy a glimpse into the folklife – and the heart – of North Dakota!
TellTale: Dakota Folklife and Stories is a collection of narratives describing the shared personal experiences and lore of life on the North Dakota plains.
From stories of blizzards, to the man who climbed atop a windmill to play his accordion, to the fate of Poker Jim, they originate from, and are shaped by, interviews with senior citizens, many of whom are from elder care facilities.
As a special part of the Art for Life Program, which seeks to improve the emotional and physical health of elders through intensive art and artist interaction, these small group interviews take place around shared experiences, culture, and beliefs. The storytelling process of the elders is designed to address loneliness, social isolation, memory loss, and sense of worth.
Other interviews were collected from participants of the agency's Folk and Traditional Arts Apprenticeship Program as well as traditionalists identified through fieldwork. From Germans-from-Russia folk singers, American Indian storytellers and Veteran auto-biographers … Watch for new additions!
TellTale is produced in partnership with Dakota Legacy, elder care and service organizations statewide, and North Dakota Council on the Arts (NDCA). This effort is supported in part by a grant from NDCA, which receives funding from the state legislature and the National Endowment for the Arts.
TellTale Audio Recordings with Synopses
Medium
h2
TellTale Audio Recordings with Synopses
Inaugural TellTale Stories
Poetic Portraits: The Lives of Veterans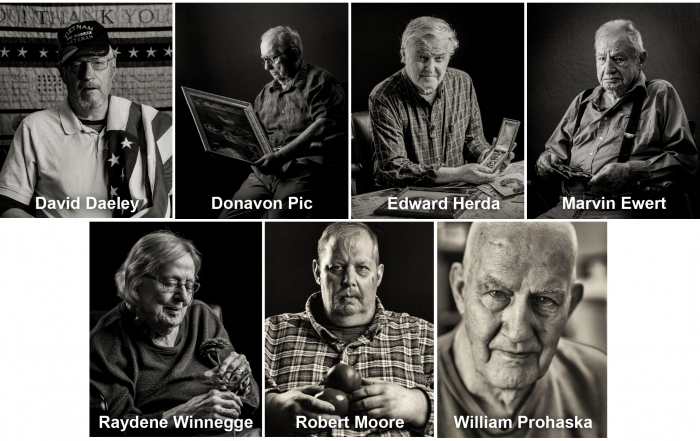 These audio files are part of a special thread within the TellTale series that honors veterans and military service. It features memories sparked by the creation of an auto-biographical poem used in the exhibit Poetic Portraits: The Lives of Veterans. *Photos by: Kevin Taylor 
David Daeley, I'm From Grandpa's Pipe, U.S. Marine Corps (Vietnam War), Lakota, ND:  David talks about his love of teaching and PTSD. (7:50)
 
Donovan Pic, I'm From Cream and Grain, North Dakota National Guard, Lakota, ND (Episode 1 of 3):  Donovan reads an auto-biographical poem that sparks poignant memories. (5:58)
 
Raydene Winnegge, I'm From the Queen Mary, WWII War Bride, Lakota, ND (Episode 1 of 2):  Raydene reminisces about meeting her husband, a U.S. soldier, during World War II in England and coming to America on the Queen Mary. (6:36)
 
Marvin Ewert, I'm From Mom's Potato Pancakes, U.S. Army (Korean War), Silver Star and Purple Heart Recipient, Lakota, ND (Episode 1 of 3):  Marvin relays his experiences during the Korean War. (5:48)
 
Donovan Pic, I'm From Cream and Grain, North Dakota National Guard, Lakota, ND (Episode 2 of 3):  Donovan talks about his military service. (5:03)
 
Bill Prohaska, I'm From Peanut Butter and Jelly Beans, U.S. Air Force, Valley City, ND:  We get to know Bill through his auto-biographical poem and how military service has defined his family. (6:32)
 
Jennifer Cabezas, Admissions, Sheyenne Care Center Staff, Valley City, ND:  The challenge of dealing with the Covid-19 pandemic in an eldercare facility is discussed. (5:05)
 
Marvin Ewert, I'm From Mom's Potato Pancakes, U.S. Army (Korean War), Silver Star and Purple Heart Recipient, Lakota, ND (Episode 2 of 3): This family of veterans includes a father who served under Theodore Roosevelt in Cuba during the Spanish-American War. (5:50)
 
Robert Moore, I'm From a Big Oak Tree, U.S. Marine Corps, Valley City, ND:  Boot camp is a transformational process in the lives of many who serve in the military. (8:19)
 
Donovan Pic, I'm From Cream and Grain, North Dakota National Guard, Lakota, ND (Episode 3 of 3): The love of farming starting at the age of nine-years old is revealed. (6:49)
 
Kermit Ueland, I'm From Grandpa's Made-up Stories, U.S. Air Force (Korean War), Valley City, ND:  Three brothers enlisted for the Korean War, saluting General Douglas MacArthur, and the pain of war. (7:31)
 
Marvin Ewert, I'm From Mom's Potato Pancakes, U.S. Army (Korean War), Silver Star and Purple Heart Recipient, Lakota, ND (Episode 3 of 3):  Four major campaigns in the Korean War resulted in the awarding of a Purple Heart and a Silver Star for Gallantry in Action. (6:07)
 
Raydene Winnegge, I'm From the Queen Mary, WWII War Bride, Lakota, ND (Episode 2 of 2):  The experiences of a young girl during the "Plymouth Blitz" in England during WWII and sleeping in air raid shelters. (6:45)
 
Eugene Klein, I'm From Beautiful Evergreens, U.S. Army, Valley City, ND:  Sheyenne Care Center staff, Jennifer Cabezas, reminisces about Eugene's auto-biographical poem and the impact it had on him and others during the height of the Covid-19 pandemic. (7:04)
 
Edward Herda, I'm From My Yorkies, U.S. Marine Corps (Vietnam War), Purple Heart Recipient, Lakota, ND:  Experiences of running a convoy to evacuate the wounded and dead in the Vietnam War. (8:11)