Medium
The arts are essential to learning and life. North Dakota Council on the Arts envisions a state where all students have access to, takes part in, and reap the benefits of high quality, lifelong learning experiences in the arts, both in school and in the community. The arts teach students innumerable lessons—practice makes perfect, small differences can have large effects, and collaboration leads to creativity. They also teach children that there are several paths to take when approaching problems and that all problems can have more than one solution.
Research has shown impressive benefits of arts education on entire school culture—especially student motivation, attitudes, social/emotional well-being and attendance. Numerous reports discuss the ways that increased access and involvement in arts education encourage students to stay in school, succeed in school, succeed in life, and succeed in work. And yet, despite the impressive benefits of arts education, not every student in North Dakota has access to these quality learning experiences. North Dakota Council on the Arts is committed to improving equity and access to the arts for all students, especially those marginalized due to social economic status and/or geographic or cultural barriers, through a variety of partnerships and grant programs.
ARTS IN EDUCATION OPPORTUNITIES AND UPDATES
Medium
May 2022 Updates
Picturing Writing Virtual Workshops
August 1-5, 8:00am-12:00pm
Picturing Writing: Fostering Literacy Through Art® is an innovative approach to teaching writing and fostering literacy designed to meet the needs of a wide range of learners. Developed by Beth Olshansky, this evidence-based model uses quality picture books and simple, captivating art techniques to teach the art of writing. Immersed in a rigorous creative process during Artists/Writers Workshop, students create their own quality picture books aligned with grade-level standards and curriculum. They learn to read like a writer and see like an artist. This August, Central Regional Education Association (CREA) and North Dakota Council on the Arts are once again teaming up to provide ND teachers with TWO Virtual Picturing Writing workshops at GREATLY REDUCED COST! (Limited number of seats available.)
AUGUST 1-3 (8:00am-12:00pm): For those new to the PW process - Introduction PW, Time of Day and Weather Poetry.
AUGUST 4-5 (8:00am-12:00pm): Looking for inspiration on how to integrate PW into other areas of the curriculum? Jump into the PW Research-Based Animal Trifold Unit.
TAKE BOTH for discounted fee!•Registration deadline July 8, 2022.
For more information, detailed class description, and to register, visit the Picture Writing Virtual Workshop webpage.
*Read more about Picture Writing, a research-based approach to literacy!
*Watch a video with a PW teacher speaking about the process. 
*See exemplars created by North Dakota teachers during one of our past Picturing Writing Workshops.

Picturing Writing books created by ND students:
2nd Grade Students, Hebron Elementary, Instructor Kayla Walker
3rd Grade Students, Hazen Elementary, Instructor Tammie Vernon. Picturing Writing process used as tool for integrating informational text and Social Studies.
---
CHECK OUT OUR ROSTER OF HIGHLY QUALIFIED TEACHING ARTISTS
Though NDCA highly encourages schools to work with NDCA Teaching Artists, applicants may also select a teaching artist who is NOT on NDCA's Teaching Artist roster but will be required to provide additional information about why the teaching artist was selected and submit the teaching artist's resume and work samples for review.
---
Upcoming Grant Opportunities
Artist in Residence Grant
Artist in Residence is a noncompetitive reimbursement grant program that provides up to $2,500 in support for North Dakota pre-K-12 students and teachers to work with professional artists either in a traditional school setting or during after-school and/or summer programs. Residencies include 20 or more contact hours spanning four days or longer (up to five hours per day of artist activities). Teaching artists work together with teachers and staff to design activities that enhance educational programs and help to address learning standards or curricular goals.
Applicants are encouraged to carefully review the Program Overview and Application Instructions, then call the program officer prior to beginning an application.
Note: There is limited funding available for this program. Early submission of applications is highly recommended. Applications are reviewed and grants awarded on a first-come, first-serve basis and it is not guaranteed that funds will be available. Applications will be accepted till May 1 or until funding is no longer available.
*All funds have been awarded for the current fiscal year. More funds will be made available for use during the coming school year 2022-23. Please check back HERE after July 15th is you would like to apply.
---
North Dakota Afterschool Network Art Funds
The ND Afterschool Network, in collaboration with ND Council on the Arts, is pleased to offer funding to afterschool, summer, and other out-of-school time programs ranging from $500 - 2,000 to increase opportunities for students to engage in arts programming during the 2022-2023 school year.
---
Congratulations to our FY22 Artist in Residence Grantees!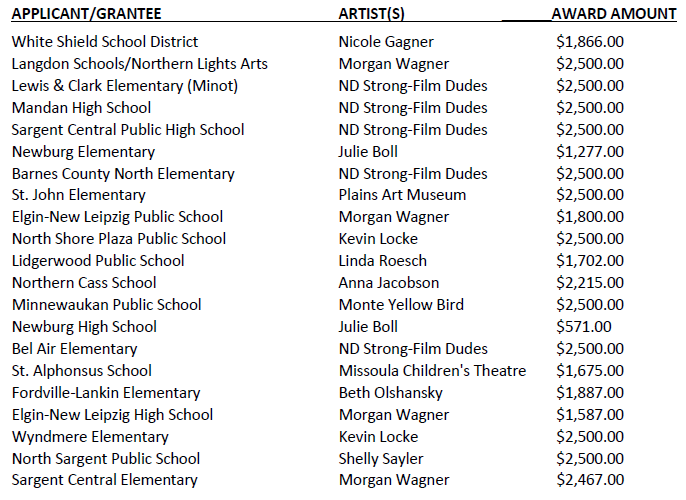 Arts in Education Week
North Dakota Council on the Arts in partnership with the Communications, Speech and Theater Association of North Dakota, North Dakota Arts Education Association, North Dakota Music Educators Association, and North Dakota Choral Directors Association are proud to announce that Governor Doug Burgum has joined in the national celebration and proclaimed September 13-19 as Arts in Education Week in North Dakota.
This came by way of an official proclamation from his office, which recognized the "arts as an integral part of life in North Dakota and an integral part of a complete education that contributes to the vibrancy and vitality of communities and the nation." Please reach out and let Governor Burgum know you appreciate his support of arts in education via Facebook, Twitter, or Email.
Rebecca Engelman, NDCA Arts in Education Director states, "At a time when we are deliberately distancing ourselves from other people, we turn to the arts to entertain, distract and comfort us. But the arts do even more! During challenging times, the arts are critical for helping us connect with each other, express difficult emotions, process stress, and stay engaged. Now more than ever, children and adults need art to remind us why life is worth living, to reawaken our sense of the wonder of being, to remind us of our freedom, and to highlight the things in our cultures that connect us and enable us to withstand unexpected challenges."
Passed by Congress in 2010, House Resolution 275 designates the week beginning with the second Sunday in September as National Arts in Education Week. During this week, the field of arts education joins together in communities across the country to tell the story of the impact of the transformative power of the arts in education.
Share your personal stories of the impact the arts and arts education have made in your life and the lives of your students and community. Be sure to share using #NDGOV, #BecauseOfArtsEd and #ArtsEdWeek.