Medium
In 2015, NDCA began coordinating with the State Historical Society of North Dakota (SHSND) to showcase various North Dakota artists and cultures through exhibits in the art gallery at the SHSND's Heritage Center and State Museum in Bismarck, North Dakota. The Museum is open Monday through Friday from 8 a.m. to 5 p.m.; Saturday and Sunday from 10 a.m. to 5 p.m.
Medium
On the Edge of the Wind: 2023-2025
Exhibit in the Governor's Gallery through April 2025

On the Edge of the Wind: Native Storytellers & the Land
Where do you go to center yourself? Does a certain landscape speak to you? For many Native Americans, the earth and everything in it are linked and possess a supernatural presence, but some places or elements of nature like specific buttes, streams, and rocks are considered especially powerful. Stories—intimately tied to the land—convey morals and lessons connected to an ancestral and spiritual past. Together the stories and land provide a means and a place to center oneself in the present. They guide and set a path for the children of the future.
The largest exhibit produced by North Dakota Council on the Arts in association with the State Historical Society of North Dakota in decades, 𝘖𝘯 𝘵𝘩𝘦 𝘌𝘥𝘨𝘦 𝘰𝘧 𝘵𝘩𝘦 𝘞𝘪𝘯𝘥: 𝘕𝘢𝘵𝘪𝘷𝘦 𝘚𝘵𝘰𝘳𝘺𝘵𝘦𝘭𝘭𝘦𝘳𝘴 & 𝘵𝘩𝘦 𝘓𝘢𝘯𝘥 explores the connections between cultural practices, regional landscapes, and tribal oral narratives. Based on interviews with 13 Native storytellers and knowledge keepers compiled over 10 years, this exhibition includes large images of the storytellers and the land; touchscreen monitors to access the traditional stories and their cultural explanations; folk art related to the stories and land; and experiential components such as guided imagery listening stations.
Featured storytellers include Alvina Alberts (1912-1997), Dakotah; Keith Bear, Mandan/Hidatsa; Francis Cree (1920-2007), Ojibway/Cree/Assiniboine; Alex DeCoteau, Ojibway; Dakota Wind Goodhouse, Lakota; Debbie Gourneau, Ojibway; Calvin Grinnell, Hidatsa; Dan Jerome, Métis/Ojibway; Anna Littleghost, Lakota; Lenore White Lightning, Dakotah; Mary Louise Defender Wilson, Dakotah/Hidatsa; Courtney Yellow Fat, Hunkpapa Lakota; and Marvin Baldeagle Youngman, Ojibway.
𝘖𝘯 𝘵𝘩𝘦 𝘌𝘥𝘨𝘦 𝘰𝘧 𝘵𝘩𝘦 𝘞𝘪𝘯𝘥: 𝘕𝘢𝘵𝘪𝘷𝘦 𝘚𝘵𝘰𝘳𝘺𝘵𝘦𝘭𝘭𝘦𝘳𝘴 & 𝘵𝘩𝘦 𝘓𝘢𝘯𝘥 is free to the public and is open from April 2023 through April 2025.
Sundogs and Sunflowers: 2018-2019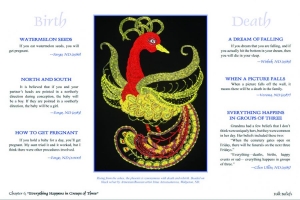 Sundogs and Sunflowers: Folklore and Folk Art of the Northern Great Plains
The Sundogs and Sunflowers: Folklore and Folk Art of the Northern Great Plains exhibit is based on the Sundogs and Sunflowers: Folklore and Folk Art of the Northern Great Plains book, a 352 page, coffee-table-size, full color, hardcover volume featuring more than a thousand examples of folklore and folk art as well as more than three hundred images. Most of the material comes from North Dakota with every single one of the state's fifty-three counties represented. Traditions from the prairies of South Dakota, western Minnesota, eastern Montana, northeastern Wyoming, and the Canadian provinces of Alberta, Manitoba, and Saskatchewan also are included.
The material covers ghost stories and other strange tales, legends, blizzard stories, weatherlore, proverbs, folk expressions and folk speech, folk beliefs, folk medicine, holiday celebrations, hunting, fishing and trapping traditions, and folk art. Bearwalkers, Bigfoot, haunted houses, the blizzard of '66, the floods of '97 and '09, sundogs, rodeos, jokes, antler-carving, sunflower pie, decorative Easter eggs, methods to foretell the weather using onions, American Indian flutes, and so much more can be found in this publication.
NDCA produced this exhibit, which consists of full-color pictures (samples from chapters in the book with text and images) augmented with folk art pieces such as Norwegian Hardanger fiddles and needlework, ice spearfishing decoys, duck decoys, Ojibway beaded "octopus" bag, Russian beadwork on velvet, Armenian brass repoussé, Hidatsa porcupine quillwork, and elk antler scrimshaw work.
Spirit Trails and Sky Beings: 2017-2018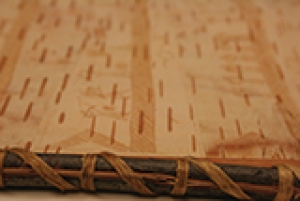 Spirit Trails and Sky Beings: Mythical Scrolls of the Ojibway Nation
Ojibway tradition states that since the beginning of time the epic struggles and great deeds of mythical beings, spirits, and heroes have affected the lives of people. The tradition of storytelling is said to have begun with the spirit Diibajimad, who taught it to a half-spirit, half-mortal being called Nanabosho. One day, while wandering in the ancient forests, Nanabosho angered Animi'ki, the Thunderbird, by disturbing her children. With the sounds of thunder and flash of lightning, Animi'ki chased Nanabosho who safely hid in the hollow of a tree. For saving his life, Nanabosho blessed that tree, a birch tree, with special powers. Since then, the birch tree is renowned and used to make everything from lodges to baskets to canoes to storytelling scrolls.
Nanabosho, in his turn, taught the great stories and the storytelling tradition to mortals where it has passed through the ages from generation to generation. To correctly and completely relay these narratives through time, scrolls consisting of an elaborate and highly complex series of symbols called pictographs are created. These pictographs are inscribed on birchbark with a bone awl.  Serving as memory aids, the stories are utilized to teach lessons, morals, and values to children as well as to adults.
Today, the Ojibway birch bark storytelling scroll tradition is extremely rare and resides in the hands of a few traditionalists known as "Keepers of the Scrolls." One such person is Anthony Richard LaFromboise (Miskomin – "Raspberry") from the Turtle Mountain Indian Reservation of North Dakota.  Sitting at his grandmother's knee, he listened as she shared the stories and showed him the scrolls.  As he grew up, he learned and took on the responsibility of keeping the tradition from his family and other elders.  A multi-talented traditional artist, Miskomin worked with NDCA to create this exhibit as a significant step in the preservation and continuation of this very rare tradition that is seldom seen or shared anywhere.
The exhibit featured didactic panels, descriptive text, sample scroll materials, "reading" instructions, and eight scrolls with written translations corresponding with the pictographs to tell the complete stories. Opeechee: The Robin, Summer Maker: The Story of Ojeeg Anung, and Moowis: Man Made of Dirt and Rags are just some of the fascinating stories included.
Watch this film via this link, it records an Anishinaabe scroll keeper named Miskomin teaching Native American students about birch bark scrolls, wiigwaasabakoon. It was made by Media Mike Hazard at Circle of Nations School with support from the artist Laura Youngbird, the writer Lise Erdrich, and the National Endowment for the Arts.
Norwegian-American Carvings: 2016-2017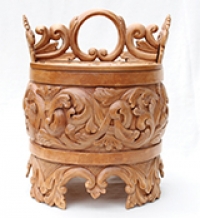 YGGDRASIL: The Norwegian-American Carvings of Gaylord "Guy" Paulson
This exhibit, titled Yggdrasil: The Norwegian-American Carvings of Gaylord "Guy" Paulson featured traditional carvings such as tine boxes, tankards, and a kubbestol (Norwegian stump chair).
Gaylord "Guy" Paulson lives and creates in Fargo, North Dakota. His grandparents and their seven children, including Guy's father, left Norway in 1904 seeking land and opportunity. Guy was born in 1937 to Kristian and Evelyn Paulson and was raised on a farm and ranch in Philip, South Dakota, near the Cheyenne River Breaks. It was from there that Guy's grandfather and uncles cut Rocky Mountain Juniper trees to make fence posts for their land in the western part of the state. Settled predominantly by Norwegian-Americans, the area was named Haakon County after the popular Norwegian King Haakon VII.
Guy began his education in a one-room schoolhouse, attended high school, and went on to earn a Bachelor's Degree, Master's Degree, and eventually a Doctorate in Biochemistry.  He worked for more than 30 years as a research scientist studying drug metabolism in animals at the USDA Metabolism and Radiation Research Laboratory in Fargo. Yet his informal education, that of Norwegian woodcarving, spans over 40 years. He learned from books, trial and error, and especially by associating with other carvers.
Guy was the driving force behind the building and carving of a full-scale replica of the Hopperstad Stave Church of Vik, Norway, in Moorhead, Minnesota. Stave churches, defined by the use of vertical posts, originally were built in the 1100 and 1200s, near the end of the Viking Age in Scandinavia. The documentary about the building of that church, "Building a Dream: The Moorhead Stave Church," will be available for viewing at the Heritage Center in association with the exhibit. In addition, a publication featuring Guy's work, and the work's place within a Norwegian-American cultural framework, is being developed to accompany the exhibit and copies will be available at the exhibit.
Cultural Treasures of Armenia: 2015-2016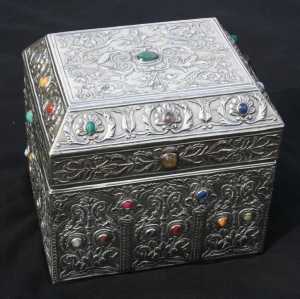 God Given: Cultural Treasures of Armenia
The first of the art exhibits, valued at nearly $100,000, opened in conjunction with the Heritage Center and the State Museum's grand reopening on November 2, after a lengthy and beautiful expansion project. This exhibit, titled God Given: Cultural Treasures of Armenia, featured the work of traditional/folk artists Norik and Irina Astvatsaturov. (Their last name in the Armenian language translates to "God Given.") Norik, Irina, and their children came to North Dakota as refugees from Baku, Azerbaijan, fleeing ethnic and religious persecution. 
Their artwork is representative of their heritage, history, and experiences. Norik is a Bush Foundation Artist Fellowship recipient whose work includes ornately created copper and bronze repoussé work with inlaid semi-precious stones – jewelry boxes, crosses, icons, plates, and other items are created by hand. Irina was an art teacher in Baku and learned Russian and Eastern European beadwork as a child and young adult. Her work includes elaborate and colorful beadwork on black velvet – iconographic beadwork, flowers, and birds.  Birds are a powerful motif for Irina as they remind her of "people flying away like birds" to escape the violence and struggles her family and others from Baku endured. 
The exhibit was augmented with an award-winning publication written by NDCA's folklorist, Troyd Geist, which features Norik's work. In addition, a short documentary created in partnership between NDCA and Prairie Public will air repeatedly in the Heritage Center and State Museum's theater. The documentary explores Norik's artwork in context of the upheaval in Baku and the contested Nagorno-Karabakh region between Christian Armenians and Moslem Azerbaijanis. Both the publication and the documentary are also titled God Given: Cultural Treasures of Armenia.