Medium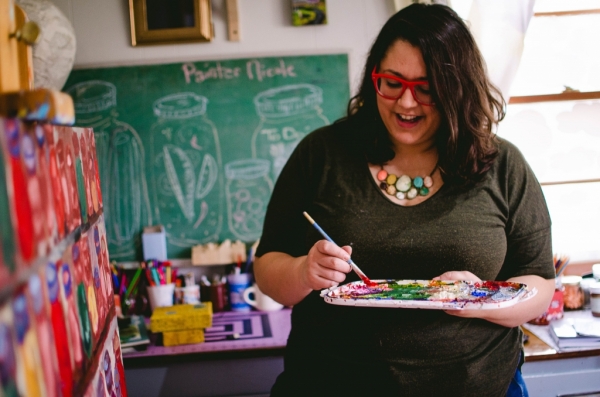 Medium
General Artist Information
Name: Nicole Gagner
Artist Discipline: Visual Arts
Grade Level Preference: Any
Geographic Availability: Anywhere within the state
Fee per-day: Negotiable
Email: nicole.gagner@gmail.com
Phone Number: 701-391-3742
Website: http://nicolegagner.wix.com/artwork
Biography
I am a painter living and working in Bismarck, North Dakota. Although the majority of my studio work is oil on canvas still life and regional landscape, I draw inspiration from a wide variety of sources, often of a personal and almost autobiographical nature. The recurring themes of my work would be energetic mark making and a vibrant palette.
Teaching Philosophy
Pablo Picasso said "Every child is an artist. The problem is how to remain an artist once he grows up."  I believe that art can and should be accessible to everyone, especially children. There should not be a stigma or wall built around art- there is something for everyone to enjoy and learn from in the art world, as long as you keep your eyes and mind open. A love for art is also a gateway to a love for lifelong learning- there is always more that the art world can teach us if we stay engaged.
Sample Residency Information
Residency Title: Drawing from Life
Grade Level: 9-12
Number of Sessions: 3-6
Description
Students will learn multiple sketching techniques to engage their hand eye coordination and learn to see objects in a way that gives them a greater understanding of how to translate what they see onto paper. Exercises would include quick gesture sketches to capture essential lines and form, ink drawings with thick brushes to learn to identify values, continuous line drawings, blind contour studies, and more. Sketches and other practice materials will be incorporated into a mixed media collage in the last session to show that while their is value in learning a technical skill such as drawing from life, there is also merit in experimenting with the pure joy of creating a beautiful abstract piece of art as well.  Artist Nicole Gagner will lead the residency and do demonstrations throughout the sessions to demonstrate  concepts.
Short Lesson Plan
Session One: Gesture Drawing
Objective: Students will understand what a gesture sketch is and how it can be used to quickly capture a motion or the essential shape of an object and will be able to complete various gesture sketches in short amounts of time.
Materials: Sketch paper and graphite pencils, chalk, pastels or vine charcoal
Directions: Students will look at examples of gesture sketches from well known and historical artists. There will be a short discussion on why an artist would use sketches to practice capturing a scene or to lay out an idea quickly. The instructor will demonstrate how to capture a line of action and build on that line to establish the essence of a pose or object. Students will then be given short amounts of time to capture a few gestures. Increasing amounts of time will be added, but the emphasis will continue to be on quickly capturing the essence of the drawing without unnecessary marks or details.
Evaluation: Student work samples and a short discussion at the end of the session to demonstrate student understanding.