Medium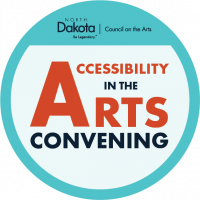 As accessibility compliance is mandated by state and federal laws, NDCA grantees are encouraged to learn more about the topic! On October 13, 2022, NDCA hosted a 4-hour ONLINE
Accessibility in the Arts Convening
to help explain why -- and how -- to make nonprofits and businesses more accessible.
NDCA's 2022 Accessibility in the Arts Convening:
Key Components:
Hear testimony from artists with disabilities 
Learn the 2010 ADA Standards: minimum requirements from Tess Stanton, Trainer, Rocky Mtn. ADA Center
Discover easy, cost-effective ways to be more accessible from Sam Gould, President, Executive Producer, Open Door Theater
Read through the ADA Checklist with NEA representatives Beth Bienvenu, Accessibility Director and Katharine Hayward, Disability Specialist  
Consider the ideas and MAKE A PLAN!
Watch the Recordings:
The event was broken down into 8 different recordings designated with teal buttons shown here and inside the Testimonials and Presentations tabs.
Welcome Video - Watch first!
Watch the 3 videos located under "Testimonials" and the 3 videos located under "Presentations"
Conclusion Video - Watch last!
Descriptions, Resources and More...
Medium
h4
Descriptions, Resources and More...
Testimonials
Blind Joe Video

Coming from nowhere to being one of the most successful solo musicians in the North Dakota/Minnesota area in just a few short years, Joe has shared the stage with numerous top local and regional acts, as well as national recording artists such as David Allan Coe, Craig Morgan, John Anderson, James Otto, Collin Ray,  Jake Owen, Buddy Guy, Bret Michaels of Poison, and many more. After multiple cross country tours, playing to thousands of fans and an excellent run on Season 9 of NBC's The Voice, Blind Joe is fast becoming a household name.

Scott Artley Video

With over ten years of professional and volunteer experience in the Twin Cities' arts and cultural sector, Scott Artley (he/him/his and they/them/their) is Metropolitan Regional Arts Council's (MRAC's) first Accessibility Program Director. In this role, in addition to the work on grant programs, he develops resources targeted to artists with disabilities and organizations serving artists/audiences with disabilities; and coordinates efforts to ensure MRAC's own grant process, public meetings, trainings, and other activities are accessible to participants of all abilities.

Katharine Hayward Video

Katharine Hayward, Ph.D (she/her) recently joined the National Endowment for the Arts (NEA) as the Accessibility Specialist, bringing with her 20+ years of experience in working to increase physical and programmatic accessibility of the arts and professional development opportunities for artists with disabilities. She continues this work by providing technical assistance and training to improve accessibility for staff, students, audiences and artists with disabilities. In her testimonial, Katharine will share the barriers she has encountered as an arts patron with disability and strategies to remedy them.
Presentations
Video: Access on a Shoestring Budget  by Sam Gould, President, Open Door Theater

Open Captioning? ASL Interpretation? Audio Description? Sensory Friendly Programming? If we can do it for a song, so can you! Let's discuss best practices in a way that is affordable for all AND that your board will buy into.
Open Door Theater is an all volunteer, non-profit, multi-generational community theater with a social justice mission of access, inclusion and diversity since 1980. It was awarded the Most Accessible Cultural Organization in the Commonwealth from the Massachusetts Cultural Council Up Initiative in 2019.
Volunteer President and Executive Producer who has been contributing to Open Door Theater's accessibility work for over 22 years, J. Samatha Gould, Esq. ("Sam Gould") is an attorney, mother, leader and innovator. She's been known to direct, produce, costume, construct, style, and writes most of Open Door's grants. Her initiatives have brought ASL interpretation, ASL workshops and advocacy, captioning at all performances, adding audio description and tactile tours for the blind, creating sensory-friendly events, and creating safe spaces for education opportunities for audience members, and training in the creation of relaxed performances. Sam Gould was recently recognized for a lifetime achievement award for her work in accessible theater by Eastern Massachusetts Association of Community Theaters in 2020 and in 2017 by the Federation of Children with Special Needs.

Video: Introduction to 2010 ADA Standards for Accessible Design and Barrier Removal  by Tess Stanton, Trainer, Rocky Mountain ADA

Participants will receive an overview of the 2010 ADA Standards for Accessible Design and how to use them. We will discuss common barriers to facility access in existing facilities, some of the minimum accepted scoping and technical requirements for common elements, and practical solutions for barrier removal.

Video: Accessibility Requirements for Arts Organizations  and Brief Accessibility Checklist by Katharine Hayward and Beth Bienvenu, National Endowment for the Arts

Federally funded projects must be accessible to people with disabilities. The National Endowment for the Arts requires applicants to consider physical and programmatic accessibility as an integral part of each project's planning and budgeting process. The presenters will review accessibility requirements for applicants and examples of planning for accessibility such as including the cost of access accommodations in the project's budget (e.g. sign language interpreters and audio describers) or conducting programs in accessible venues other than their own organization in order to meet accessibility requirements.