Medium
This online event is over, but if you were unable to participate you can watch the recorded session.
The first 15 mins unfortunately did not get recorded but a you can view a copy of the presentation.
ASL interpretation was available during the presentation if you pinned their screen - unfortunately it is not available in the recording, but the Convening is closed captioned - to view click the "CC" icon on the YouTube video.
If interested, you can view the resources and information placed in the Chat section.
Please take the survey if you participated. We would love to hear your feedback!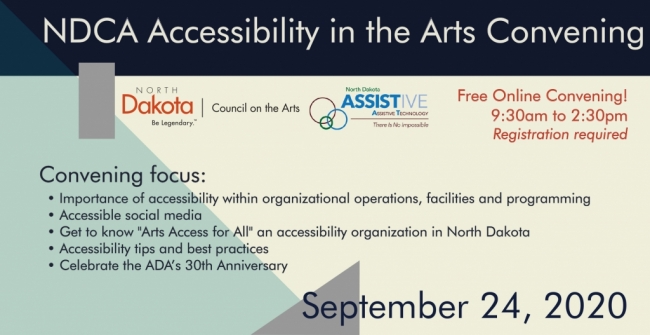 This one-day free online Convening focused on accessibility within the arts for individuals and arts organizations. Registration was required.
About this Event
North Dakota Council on the Arts (NDCA) along with its Convening partner, ND Assistive, hosted a free, online, one-day Accessibility in the Arts Convening.
As accessibility compliance is a priority with state and federal funding, NDCA grantees are encouraged to learn more about the topic! This event focused on the importance of accessibility within organizational operations, facilities and programming, as well as social media. Other topics included getting to know Arts Access for All, and learning about accessibility tips and best practices. 2020 marked the 30th anniversary of the ADA as well. This free online Convening was open to the public, but registration was required.
Agenda
9:30-9:45am – Brief Introduction, Celebration of 30 years of the ADA
9:45-10:00am - Assistive Devices Demonstration by Tami Ternes, ND Assistive
10:00am-11:45pm – "Social Media and the ADA" with Rocky Mountain ADA Center/Emily Shuman (tentative break at 10:45-10:50am)
11:45am-12:00pm – Performance by Kimberly Forness-Wilson, artist, musician
12:00-12:30pm – Lunch on your own
12:30-2:00pm – "The Art of Access – Training and Professional Development" with Upstream Arts, Inc./Julie Guidry
2:00-2:30pm – "Arts Access for All Organization Overview, and Accessibility Best Practices" with Dr. Maureen Kelly Jonason, Historical and Cultural Society of Clay County
Audience
Arts and cultural organizations, nonprofits, and individuals.
Descriptions, Resources and More...
Medium
h4
Descriptions, Resources and More...
Session Descriptions
"Accessible Social Media" Emily Shuman, Rocky Mountain ADA
Social media is now the number one way people connect with each other and an estimated 20% of the population has a disability. If your social media content isn't accessible to people with disabilities, you're significantly limiting your reach and effectiveness on these platforms and making it harder for people to connect with you. This course will cover how to make social media content more accessible to everyone and why it's worth doing.
"The Art of Access – Training and Professional Development" Julie Guidry, Upstream Arts
Access isn't only about ramps and sign language interpretation; access is an attitude! "The Art of Access" is an interactive training that examines how to "universally design" performances, exhibits, educational programming, and other events for people of all ages and abilities. We adapt this program for a wide range of participants—artists, educators, support staff, curators and organizations—anyone interested in using an artistic lens to learn best practices and tools in making their work or services accessible to the most diverse of audiences.
"Arts Access for All organization overview, and Accessibility best practices" Dr. Maureen Kelly Jonason, Historical and Cultural Society of Clay County
Maureen and Sherry and Jesse Shirek co-founded Arts Access for All, a consortium of arts organizations in Fargo dedicated to increasing accessibility to the arts to people with disabilities. She will talk about their journey together to build the consortium and the work they have achieved since 2013 and will go over some ADA best practices for arts organizations.