Medium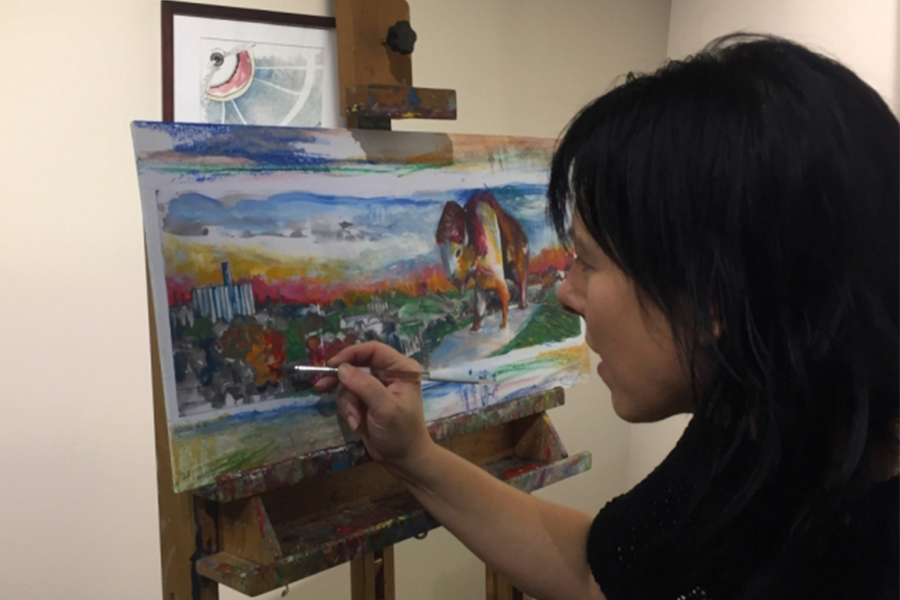 Medium
General Artist Information
Name: Linda Roesch
Art Discipline: Visual Arts
Grade Level Preference: K-12, advanced adult classes available as well
Geographic Availability: Throughout North Dakota
Fee per-day: $250/ negotiable depending upon number of sessions
Email: linda.m.roesch@gmail.com
Phone Number: 279-278-1991
Website: www.sketchingspot.com
Biography
Linda Roesch studied painting and media design at Northern State University in Aberdeen, SD, receiving a Bachelor's of Fine Arts degree in 2005. Since that time, Linda has enjoyed working as a freelance artist, traveling the country to embark upon sketching adventures or volunteer positions, and experiences from these travels are often referenced in her studio work.
Comfortable painting in watercolor, oils or acrylics, Linda is fond of expressive strokes and is known for her use of bold colors. She cherishes painting on location whenever possible, and also looks forward to time spent in the studio on commissioned scenes and portraits. She sells her art at festivals throughout the mid-west, and her colorful farm animal paintings have been a favorite of children and adults alike wherever she goes.
Teaching Philosophy
I believe that art is interesting, important, and useful. Art is all around us, and it is important to understand how even non-artists can use art as a tool to enrich individual lives and our world.
Sample Residency Information
Residency Title: Exploring Ecosystems through Art
Grade Level: This residency is appropriate for and can be adapted to meet ND State Science Standards in Grade 2: 2-LS2-2 Ecosystems: Interactions, Energy, and Dynamics, Grade 5: 5-LS2-1 Ecosystems: Interactions, Energy, and Dynamics, and Middle School: MS-LS2-2 Ecosystems: Interactions, Energy, and Dynamics
Number of Sessions: 5 working sessions
Description
An ecosystem is a natural unit of plants, animals, and microorganisms functioning together with all non-living environmental factors. To conserve this delicate balance, it is important for students to know and understand how each member of the ecosystem interacts and what they contribute to the health of the system. During this residency, Teaching Artist Linda Roesch will help students reinterpret and deepen their understanding of ecosystems by utilizing various painting and drawing techniques to create a collaborative classroom mural that can is highly informative and visually exciting.
Short Lesson Plan
Pre-Residency:
Students will have a basic understanding of an 'ecosystem' and be aware of plant and animal life that thrive in North Dakota and specifically where they live.
Each day, students will:
Review the goals for the day and review progress and information learned from previous day.
Students who complete the daily goals will work on the mural's background and/or plant life for the ecosystem.
Students receive a brief, art history lesson each day that addresses daily goals and is focused on works of art created by famous artists such as Rousseau, Van Gogh, Picasso, etc.
Session 1 (Day 1)
Artist of the Day
After a discussion about ''what is an ecosystem', Linda will help students brainstorm a list of plants and animals found in the ecosystem that they will be creating.
Students will each select an animal from this list.

This will be 'their' animal, and at the end of the week they will present a short report about the animal that describes what the animal eats, where it lives (land, water, trees), and whether it is prey for another animal. By doing this, the students will better understand the 'circle of life' and gain clearer knowledge of how each plant and animal plays an important role in the ecosystem.

Students will use computers or tablets to research what their animal looks like. They will pay attention to and make quick sketches of patterns on the animal's skin, textures in the fur, and intricacies that would otherwise go unnoticed.
Session 2 ( Day 2)
Artist of the Day
Students will think and describe about how their animals will fit into the larger ecosystem, visually/spatially on the mural and in the real world.
Linda will model drawing techniques for students
Students will use demonstrated drawing techniques to create an outline drawing of their animal.
Session 3 (Day 3)
Artist of the Day
Linda will model the use of oil pastels and other tools and mixed media used to create texture and patterns.
Students will add texture and patterns to their animals by using various media and tools.
Session 4 (Day 4)
Artist of the Day
Linda will model the use of various watercolor techniques (crayon resist, salt, plastic wrap, rubbing alcohol, etc.) and other mixed media used to create texture, layers, and designs
Students will paint their animals using various watercolor techniques.
Session 5 (Day 5)
Students will cut out and work collaboratively to add their animals to the background of their ecosystem.
Students will reflect on the process of creating their mural, how the animals relate to one another artistically and within their ecosystem. Reflective questions include:

The most important thing I learned about ecosystems is….
The most important thing I learned about drawing and painting is….
My best work is….
One thing that I would like to change or improve on is……
Teacher, artist and students will present the completed mural to an audience. Each student will present grade-level appropriate information on their animal and the role it plays within the ecosystem.
I'd like to be your teaching artist! https://youtu.be/h2vukGjAWdE