Medium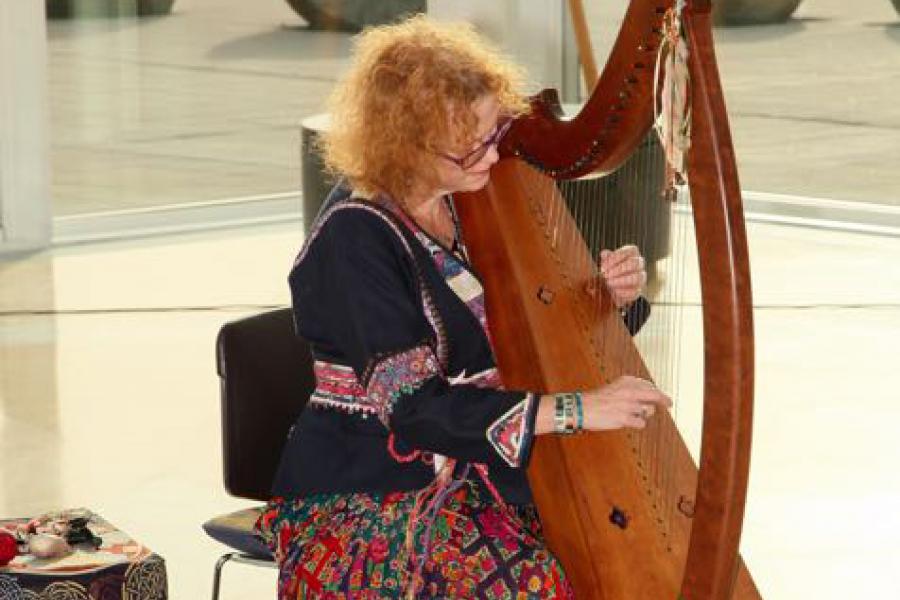 Medium
General Artist Information
Name: Debi Rogers
Artist Discipline: Folk
Grade Level Preference: all ages
Address: Mandan, ND
Geographic Availability: North Dakota, South Dakota, Minnesota
Fee per-day: Negotiable
Email: debirogers3@gmail.com
Phone Number: Work: (701) 663-0922 Home: (701) 663-2514
Web site: http://debirogerscelticmusicarts.squarespace.com
Biography
A teller of tales, harper, Gaelic singer, and céilí dancer of Scots/Irish (Celtic) ancestry, Debi's Rogers' earliest memory as a wee child was practicing flying and harping in her basement to become an Irish fairy. One of a handful of musicians who play the Gaelic wire-strung harp she's at home in any situation - from concert hall to school, from outdoor festival to senior center, from theatrical stage to Irish pub. Through travels to Ireland and Scotland, participating in the Summer School of Irish Harp (Scoil na gCláirseach) and from native speakers Debi has learned a vast repertoire of songs, dances, tales and tunes which she incorporates into her residencies and performances. As a K-12 certified choral and theater educator Debi was awarded a Fulbright to study in Japan, sang a soprano solo onstage at Carnegie Hall, and was a featured solo artist on the Prairie Public Television series, "North Dakota Musicians." She also served as an artistic ambassador for North Dakota in Iceland through an artists exchange program of the North Dakota Council on the Arts.
Teaching Philosophy
Debi utilizes the power of dramatic art to kindle the imagination and breathe life into music, stories and folktales. Her extensive background in education, Traditional Arts, Multiple Intelligences, travel, and performance are infused into all residencies. "We need to work together as cultural ambassadors to build respect, curiosity and self-esteem in today's changing world".
Sample Residency Information
Residency Title: Celtic (KEL-tic) Caravan (multi-disciplinary)
Grade Level: all ages
Number of Sessions: Flexible. One day to two week residencies available. Please contact me for specific lesson plans and objectives.
Description
Debi's residency can incorporate any of the following aspects of Celtic culture: traditional Irish music (harp, whistle, guitar and song), dance (céilí), drama, folktales, and visual arts (ogham, Brigid cross, clan shield, Book of Kells). Her performance pieces demonstrate how the Celts managed to integrate arts and the appreciation of it into all aspects of life. Students experience the art and culture of the Celtic lands.This student-centered residency is conducted in a lively, engaging manner that entertains and enriches school curriculum.
Example of Lesson During Residency
Students will sing songs from Scotland, Ireland and the Isle of Man in English, Irish and Manx; play at least one song on tin whistle; dance "The Waves of Tory", an authentic Irish dance; through creative dramatics act "The Children of Lir", an ancient Irish story; experience many Celtic stories and write their own "otherworld" story; learn about the history, geography and language of the 7 Celtic nations; perform an Irish blessing using American Sign Language; listen to, learn of and later play a authentic Irish harp; discover, report and take pride their personal heritage; construct a Brigid Cross, Ogham marker, or clan shield. Longer residencies culminate in public performance.