Medium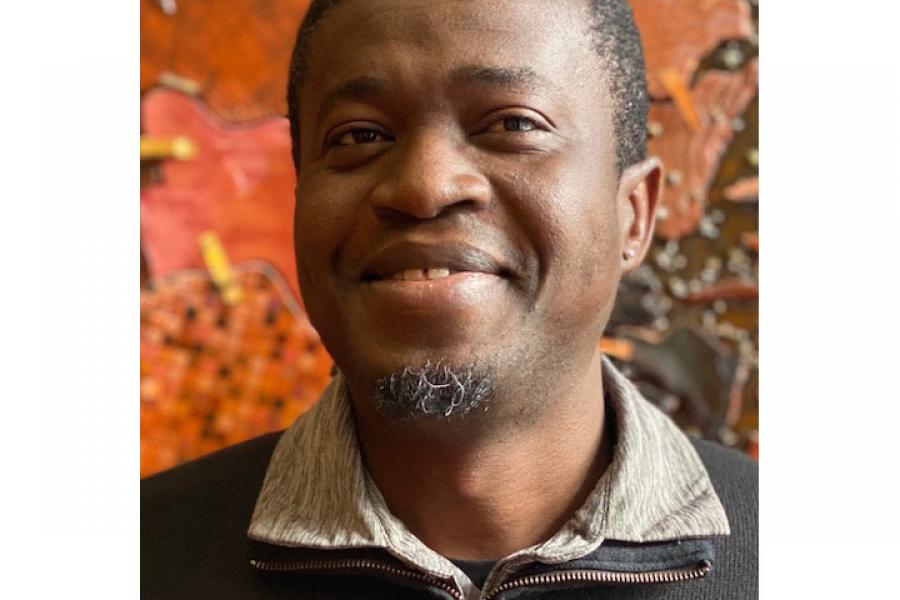 Medium
General Artist Information
Name: Hamzat Amoussa Koriko
Artist Discipline: Folk Arts
Grade Level Preference:  8-12
Geographic Availability: Throughout North Dakota
Fee per-day: Negotiable
Email: amoussak@gmail.com; hamzat@africanartsarena.org
Phone Number: (701) 739-4310
Website: www.africanartsarena.org
Biography
Dr. Koriko Hamzat is the Director of the African Arts Arena, based in Grand Forks, ND, where he uses performing and visual to engage communities on challenges and opportunities of immigration. A trained actor and storyteller, Hamzat is a multidisciplinary art professional who worked with theater institutions in West Africa, France, Italy, and the US. He was a featured author at the 42nd Annual UND Writers Conference at the University of North Dakota in 2011. His works include The Case of the Missing Girl (Lambert Academic Publishing); L'ombre de nuit (Harmattan, 2012) Quand L'oiseau S'envole (Harmattan, 2007), and co-authored the article The Complicated Identity Negotiation of Women in Kangni Alemdjrodo's Chemin de Croix and Gustave Akakpo's Catharsis (IJFS, 2016). His translation of Quand L'oiseau S'envole (When the bird takes flight) was invited to the Kennedy Center (KCACTF) in 2010. Hamzat teaches Research Scholars: The Immigrants Experience in North America at the University of North Dakota in the Honors Program Department since his return from the Peace Corps in 2018. His latest storytelling work, The Immigrant In Your Backyard, has been performed around North Dakota.
Teaching Philosophy
Students learn better when they see someone do it, and they try it. This is the approach that I refer to as "I do, we do; and you do". It is a model that I learned from a friend during my Peace Corps service. I believe that every student knows something, has the potential for something and when given a chance and with a little patience, these qualities and skills can be nurtured. I believe most learning activities and classrooms interactions should draw on what students are familiar with. I also believe that by using the arts as a tool, we encourage critical thinking that allows students to turn the familiar into something strange, and that what is strange into something familiar.
Sample Residency Information
Residency Title:  The Craft of Storytelling
Number of Sessions:  10 sessions; 50 minutes per session.
Description:  Students will explore the world around them through storytelling. This new form of telling story combines music, dance, and song, and allows students to explore their creative and imaginative skills while learning more about the on-going globalizing world they live in.  Students will learn about new immigrants' cultures by integrating basic theater and acting skills, Togolese dance movement and musical instruments into their stories. Dr. Hamzat Koriko, a published playwright, percussionist, dancer, and storyteller will lead the residency in collaboration with the school representative, if needed.
Short Lesson Plan
Each session will follow the same format:
Warm-up: (5 minutes)
we do some stretching and body movements based on Jacques Lecoq "Corps poetique" where participants turn their body into poetic movements.
Activities-Practices (40 minutes)
I present the activities (working on an existing story)
We do the activities together
Students work in group on the activities and practices.
Cool down- (5 minutes)
We come together as group to reflect on what we talked about and what we learn from the session.