<< All News
Tuesday, October 10, 2023 - 02:00 pm
Categories: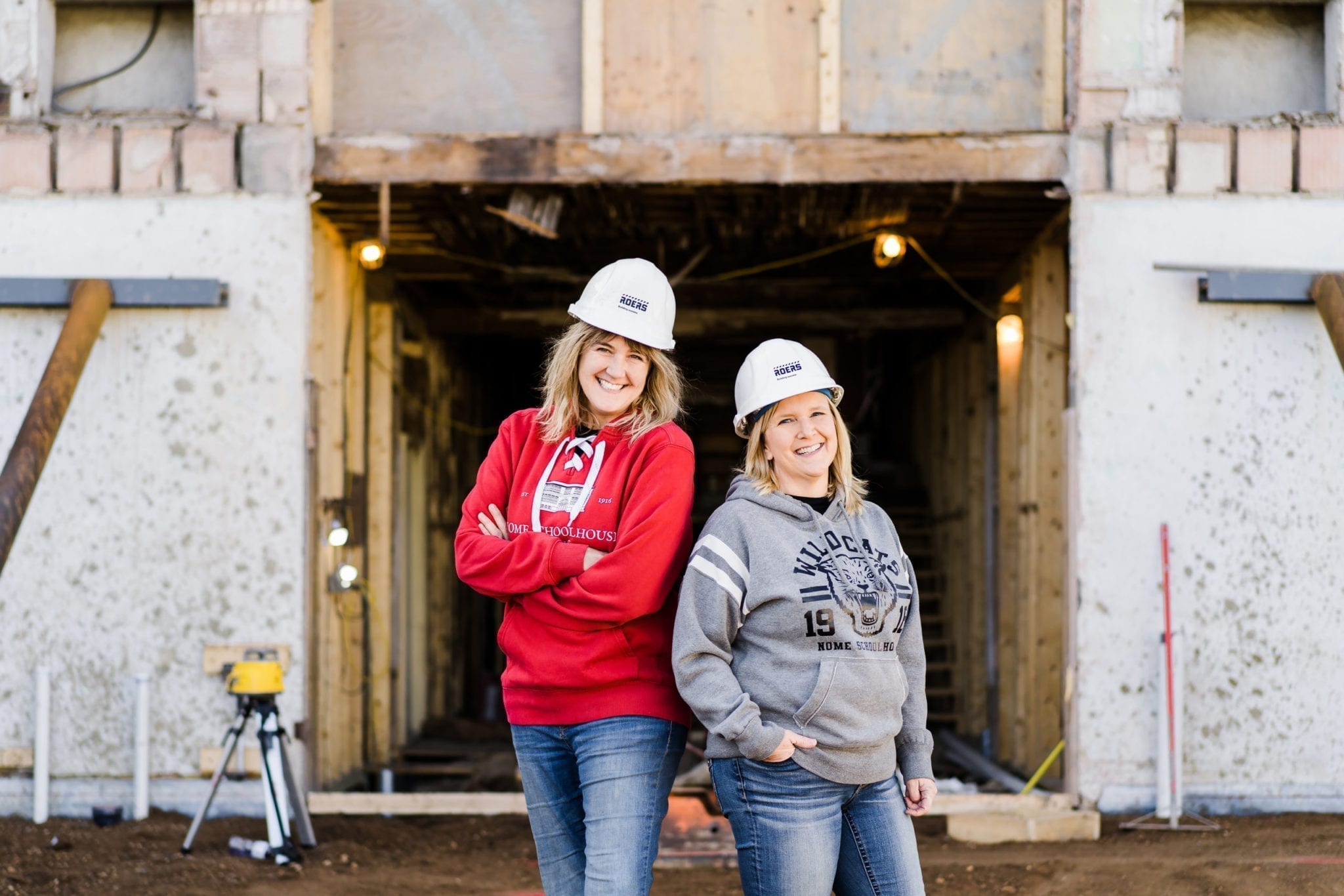 Chris Armbrust (left) and Teresa Perleberg (right), of eastern North Dakota, each started their journey with fiber arts after being introduced to a spinning wheel in the early 2000s. Fiber art is a fine art that uses natural or synthetic fibers, such as fabric or yarn made from materials such as wool, to create textiles and other woven objects. Wool starts out in clumps which must be separated into individual fibers through a process called carding. This creates roving, a long and narrow bundle of fiber, that can be used in spinning wheels to make yarn.

Chris Armbrust started with four alpacas and enjoyed hand-spinning their wool into yarn. People wanted to buy her yarn, called Dakota Spun, but she couldn't make enough for everyone. So Chris started sending the alpaca wool to distant fiber mills for processing. She said, "I would send it off and I would wait 8 months for my fiber to return. That's just the industry standard. It takes a long time. There's just a shortage of mills out there."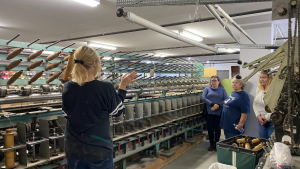 In 2010, Chris bought equipment and went through three weeks of training so she could open her own mill called Dakota Fiber Mill. She did not start taking on customers until the latter part of 2011. She explained, "It took me six months of working with my own fiber before I felt comfortable enough tackling customers' fiber." The first two years she owned the mill, she also worked a full-time job as a nurse's aide in an eldercare facility. As business increased, she quit her job so she could spend more time at the mill, but she still couldn't keep up with demand. She said, "Nine years later, the mill was busting at its seams. I was closed to new customers. I needed more room. That's when I contacted Teresa."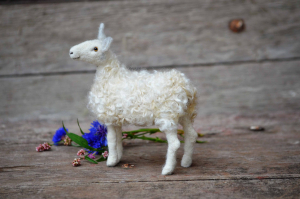 Teresa Perleberg learned the art of needle felting in 2006. It is a dry felting technique that uses barbed needles to push fibers (from cotton, wool, etc.) through felt to lock the fibers together and create a more condensed object. She said, "After I was introduced to needle felting, I was hooked and haven't stopped since, not realizing I had any artistic talents until I found wool." She started raising sheep so she could use their wool, eventually processed in Chris's Dakota Fiber Mill, for her needle-felting projects. 
Teresa's completed projects were gaining popularity. She explained, "While demonstrating at a local event, I had people interested in purchasing my needle-felted items. I was pretty excited." In 2008, she opened a business called Bear Creek Felting and started selling her artworks on ebay.com and then on Etsy.com. Teresa could not keep up with the demand so she decided to create and sell kits, which included materials and instructions, so her customers could make some of the easier projects on their own. People started asking for harder projects, so in 2017, Teresa created the Bear Creek Needle Felting Academy where they could take online courses.
Teresa's needle-felting products and supplies were starting to take up too much space in her house. Her bedroom was also her office and the basement was full of wool. She said, "The need to expand and get everything out of my house . . . had been growing over the years." She also wanted to offer a beautiful space for people to not only work on projects but see the animals that provided the wool. That's when Chris asked if she would like to collaborate. After discovering a similar need for more space to hold their complimentary fiber businesses, Chris and Teresa formed Shepherd Industries, LLC.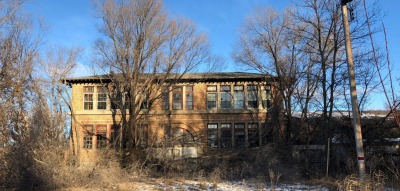 In 2018, they decided to buy and restore the 1916 Nome Schoolhouse located in southeast North Dakota. Over the next three years, the pair reported their progress on their You-Tube Channel that they branded "Ewe-Tube." Chris and Teresa were heavily involved in some of the construction projects, including grouting the bricks in both the event center and the dining room. They kept many aspects of the original schoolhouse, such as sinks, walls, and floors but many parts of the building had to be replaced, including the roof and all the windows, due to fifty years of water and weather damage. Many historical objects have been donated back to the school as well, such as old trophies, books, decorations, uniforms, and pictures.
Chris and Teresa opened the newly restored and expanded Nome Schoolhouse in July 2021.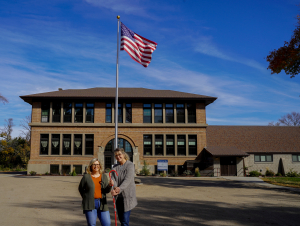 Labeled as a "unique and vibrant Fiber Arts Retreat Center, Event Center, and Boutique Hotel," it has already hosted many events. Visitors can stay in the eleven specially decorated and historic hotel rooms, shop in the fiber arts store, create in well-lit classrooms, and sit in a dining area where home-cooked meals are provided by an in-house chef. Guests can take in-person tours or follow a self-guided tour booklet that explains the history of the building. If requested, they can tour the fiber mill in the basement where wool is washed, dried, dyed, carded, felted, spun, packaged, and shipped all over the world. There is a barn near the event center where Chris and Teresa are hoping to keep some of the animals so when people come for a fiber arts retreat, they can get the full "farm to needle" experience.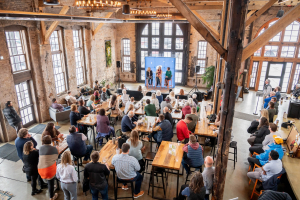 In the two years since opening the Nome Schoolhouse, Chris and Teresa have been busy hiring employees and trying to stay organized. They formed Nome Eweniversity, "a non-profit organization connecting shepherds, fiber, fiber arts enthusiasts, and fiber artists through education and experiences while building community." Teresa noted, "Chris and I have both found it challenging balancing all the aspects of our businesses and prioritizing where needed. We have so many things we want to accomplish and provide through Nome Schoolhouse. Room reservations are picking up, classes and retreats are filling with waiting lists. We have been excited to see more and more groups of crafters booking rooms and enjoying our space for a relaxing weekend together creating."
 
##
Nome Schoolhouse won the Excellence in Historic Preservation Award by the Daughters of the American Revolution in 2022, the Richard H. Driehaus Foundation's National Preservation Award in 2022, and the 2023 Governor's Trailblazer Award for Tourism Innovation at the North Dakota Travel Industry Conference. More information can be found on the Nome Schoolhouse website, Ewe-Tube channel, Instagram, and Facebook accounts.
<< All News