<< All News
Friday, August 4, 2023 - 10:00 am
Categories:
*Stories marked with an asterisk were written by experienced contributing editors with the goal of showing North Dakota's diversity.
---
Meet Shawna Fricke (right), a citizen of Piaute, and Taos/Pueblo of California and a mixed-media artist living in North Dakota. In January of 2023, Fricke became the first artist-in-residence at the Sacred Pipe Resource Center in Mandan. With a background in social work, and artistic talent for mixed media, her art reflects a connectedness to her culture, Mother Earth, and the importance of family.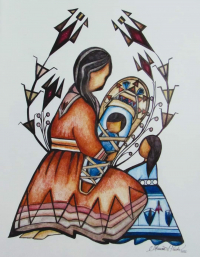 "That's all I know. My mom worked for ICWA (Indian Child Welfare Association) and so did my sister. And I have a degree in social work. My family knows the importance of ICWA. When I heard that NICWA (National Indian Child Welfare Association) was in search of an artist for their national conference, I just had to try. And I did. I was so happy to be selected. It was an honor." Fricke's artwork "Our Lifeways Heal our Spirits" (left) was on display in Reno, NV in April 2023. Fricke says her work focuses on women, family, and cultural healing. "I show the importance of our women in the community, and I like to show women in the transition of age and beauty, all based on my personal journey." 
Fricke also has an associate in fine arts degree in two and three-dimensional art from the Institute of American Indian Arts (IAIA). But it's her father who inspired her to step out as an entrepreneur and open 'Muu Ku Uv', which means "Heart, Spirit and Soul" in Paiute. Her artwork includes acrylic painting, like ornaments and jewelry, to making picture frames and postcards. She said she wanted to be an entrepreneur to follow in her father's footsteps. He, too, was an artist. And just like him, she puts heart, spirit, and soul into all her pieces. 
Fricke's been living in North Dakota with her husband and family for the past fifteen years. "When I came here, I was like, 'where are all the Native people at?' I started questioning my decision to be here. But as I got to know the area, walk around, and be around powwows, then I started seeing so many people! There are so many tribes, and a richness and pride in this area. It's truly amazing to see", said Fricke. 
Building Community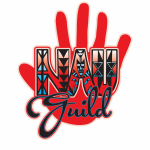 "There wasn't much of a Native artist community that I saw when I moved here." Fricke found that most artists were struggling, doing it their own way, with no support or resources available to those who needed it. "We artists talked about building a support group for artists in this area." Fricke is one of the founding members of Native Artists United, a women-owned Native cooperative formed by local Native artists whose mission is to support Indigenous artists and small businesses. She believes it's important to buy directly from local Indigenous artists - to buy from inspired Natives and not "Native inspired" art. Fricke says to support your Native artists. "We are out there trying to make our statement and establish our identity. A Native artist's work is deeply personal to them and they want to make sure it matters. Also, local Native art also gives you an opportunity to meet the artist and learn to appreciate and respect their background and story." She recommends that you pay particular attention to what you buy online. "My sister and I collaborated on a piece for 'MMIW' (Missing, Murdered, Indigenous Women). It was stolen from us and reprinted by a company in China claiming to be 'native american' art. They were taking credit for the image we created and selling it on their Facebook page. That was only a few months ago. We are still trying to figure out how to protect that image."
Transcending Differences


Fricke says art is a reflection of society and culture and can help in healing. "It helps us to understand each other as human beings and influences how we relate to each other. Art is an expression of our inner thoughts, feelings and experiences. It is affected by our daily living environment and interactions with one another. Social justice movement artists can use their work to document and preserve history, culture and stories." Oftentimes this type of artwork is seen as political rather than healing. "Political art is way out there for me, personally. But I'm learning how to be more like that. I'm more family-focused in my artwork. But the artists I work with are political artists. We are learning a lot from each other."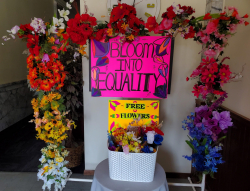 Fricke says she is excited to share the importance of social-justice themes from the workshops she has implemented as the artist-in-residence at Sacred Pipe Resource Center. One workshop was a floral arrangement class with a beautifully crafted message of "Bloom into equality". Another was a ceramics workshop making ornaments reflecting the injustices of victims and families who have missing or murdered loved ones, (also known as the MMIP movement). Another focused on messages of unity and youth during a screen-printing session. Several other workshops are scheduled until the end of the year. 
The Sacred Pipe Resource Center was awarded the artist in residency grant from Arts Midwest through a program called We the Many, a community-focused artist-in-residency program in Midwestern communities supported in part by the Mellon Foundation. By having artists embedded in their own communities, the program encourages the exchange of voices, cultures, and ideas. Fricke's residency ends in December 2023. 
Fricke's website is still under construction but invites you to look at her Facebook page under "Shawna Romero Fricke" where she posts her latest creations.  
##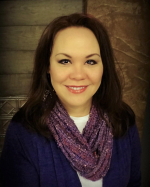 About the Author
Alicia Hegland-Thorpe is a former broadcast journalist, assistant producer and reporter for both television and radio. She graduated from Minot State University with a Bachelor of Arts in Broadcasting. She is Dakota from the Spirit Lake Nation and currently resides in the Bismarck area.
<< All News