<< All News
Wednesday, July 5, 2023 - 05:00 pm
Categories: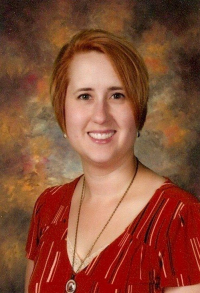 Cynthia "Cindy" McGuire Thiel is employed as a Family and Consumer Sciences educator for a middle school in Fargo, ND but also identifies as a clothing creator and garment sewist. This "lifelong passion," as she calls it, started at age 3 after she began learning the skill from her mother who was a professional seamstress. Cynthia wrote, "Slowing down to craft clothing to be lived in, cared for, and cherished relaxes and excites me. Sewing and wearing my creations is my way of bringing art to every day."
When Cynthia saw the ND Parks Artist in Residence (AIR) opportunity in the NDCA newsletter, she said, "I just knew I needed to apply for it." After she found out she was selected, she said, "I was shocked to be chosen, and thrilled to be picked! Honestly, being awarded this residency has been really validating. I don't have any formal arts training, so I learned most of what I know from <my mom> and the internet. I've taken a few weekend workshops, and had a couple of art classes in high school and college. I have more than a little bit of imposter's syndrome when it comes to my creative side."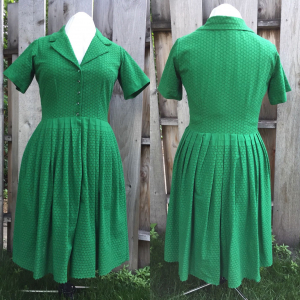 In her AIR application, Cynthia proposed a plan and listed her goals, including a description and explanation for the art piece she would be creating and then donating to ND Parks. Cynthia wrote, "My art piece would be a woman's work dress from the late 1880s around the time of North Dakota statehood. I would sew this dress using a treadle machine <a sewing machine operated with a foot pedal> and hand stitching techniques." She explained why she wanted to create the dress during the residency, "I have a childhood fascination with that time period. My pre-teen obsession with Laura Ingalls Wilder and Louisa May Alcott's characters is still something my family remembers. Making a period correct 19th century garment is a project I've wanted to create for years but haven't due to a lack of storage space and just not making time for it."
Cynthia related her proposal to North Dakota history. "Most people who immigrated to the Dakotas only had a few sets of clothing each year: usually, one for work and one for "Sunday best" for each of the two main seasons. Cloth was expensive and clothing wasn't mass produced yet – most items would have been made by the women in the family. The garments that do exist from this period are usually formal wear that was cherished and worn sparingly. Work clothing was worn to literal shreds – if a garment was damaged beyond use, any serviceable fabric would have been recut and sewn to smaller garments or used for rags. A sewing machine was an expensive and prized appliance in a household."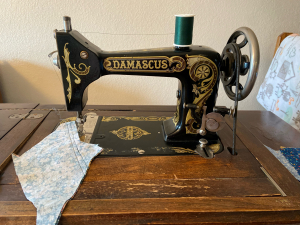 To make the experience truly authentic, Cynthia plans to bring her great grandmother's black treadle sewing machine. It was purchased from Montgomery Ward in 1934, which happens to be the same year that Turtle River State Park was established. She wrote, "I'd like to give park visitors a look into the time and effort garment making involves. Visitors would be able to view the process of garment creation and ask questions.
ND Parks staff Erika Kolbow and Josh Steffan said, "We often do not receive many applications outside of the traditional forms of art. Cynthia's application was quite unique with her being a sewist. Some locations over the years might not have been able to build a connection to her proposed presentation or donated piece, here at Turtle River we have just the right place for it. Turtle River is one of the older parks in the state, with its creation in 1934, so being able to tie the story behind Cynthia's clothing of that era into our story seems like a great fit. We are excited to have her and have the opportunity to step back in time to get an idea of what life was like back then. Her donated artwork, a dress, will be on display with our interpretive display describing the foundations of how Turtle River State Park got its start."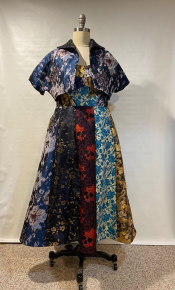 The second part of her proposal described her goals for the required presentation and workshop. She wrote, "The workshop, called 'Survival Sewing,' will be a hand sewing lesson, teaching participants several stitches and how to replace a button." She explained, "These sound like simple tasks, but as a family and consumers sciences (FACS) teacher I can state that they are more unknown than one might expect! Sewing is a survival skill –one of the most important needs we have as humans is suitable clothing. Mending said clothing (and other textiles) is an important step we can all make toward conservation & a more environmentally friendly existence."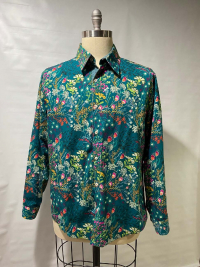 Cynthia's presentation, titled "A Sewist's Story" will be about her background and experience, including an exhibit of some of her award-winning, hand-sewn pieces. She plans to highlight the importance of her artform and those who pursue it. She wrote, "We live in a state that ostensibly prizes handcrafts; our state supports family and consumer sciences (home economics) education for public school students, and county fairs still award prizes for exceptional work. However, I have found most people stop using these skills after graduation, if not before. I want to share with others that there is still a place in our modern world for stitching and creating."
After she received her acceptance letter, Cynthia began planning and packing even though the residency was months away. She said, "I'm very excited for the residency! I hope that this will give people an opportunity to see that sewing is still a valuable skill and a thriving art form." She added, "I think it's really important for adults to see that their hobbies are valued and to put more 'casual' artists, like myself, in some of these public opportunities. Our society expects that once you get a job, it's time to grow up and leave those leisure activities behind. Maybe my presence will inspire someone to get out their old knitting needles or paintbrushes and remember what they loved about it as a kid."
##
Cynthia McGuire Thiel will be at Turtle River State Park, near Grand Forks, July 14-23, 2023. Her presentation, "A Sewist's Story" will be on Friday, July 21 and the workshop, "Survival Sewing" on Saturday, July 22. Both will begin at 8pm Central Time and will be in the Amphitheater. 
- For more information about the events happening during Cynthia's residency, visit Turtle River State Park's Facebook Event page.
- For more information about the Artist in Residency program, visit ND Parks and Recreation's website.
The Artist in Residency program is a partnership between the ND Council on the Arts and the ND Parks & Recreation Department. 
<< All News