<< All News
Thursday, November 10, 2022 - 12:30pm
Categories: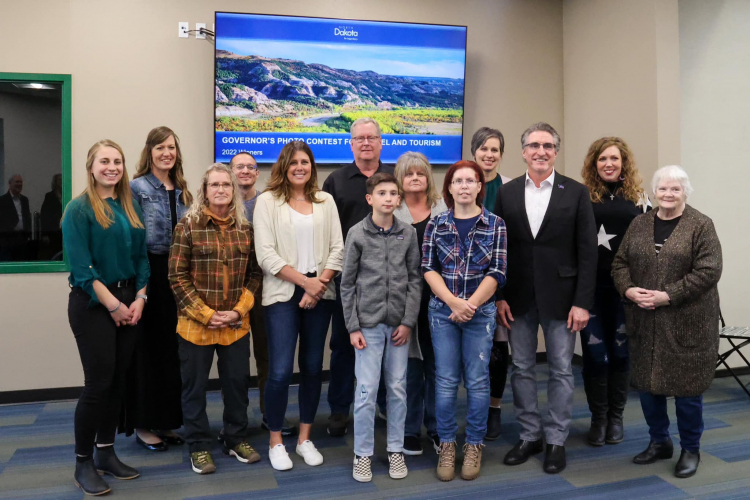 The winners of the 19th Annual North Dakota Governor's Photo Contest were celebrated at a reception mid-October at the Morton Mandan Public Library. While they came from a wide range of generations and varying walks of life, the photographers shared many of the same characteristics: strong family connections, a love of nature and the determination to capture the moment.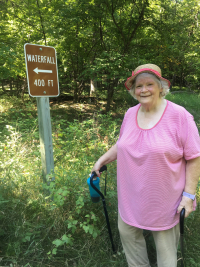 Mary Lizakowski (Minto) was excited and surprised when she received an Honorable Mention in the Roadtrips category for her photo called "Cool Waters." It was the first time she had ever entered a photo contest and she did not have high expectations.

A North Dakota resident for most her life, 74-year-old Mary Lizakowski was traveling last summer with her sisters Bev and Pat; Pat mentioned that she would like to see Mineral Springs, North Dakota's only registered natural waterfall. They tried to drive to the location by following an online navigation app but were unable to locate the waterfall or the trailhead. Then Mary remembered that her daughter had found the waterfall last summer so she called her and made plans to hike there together.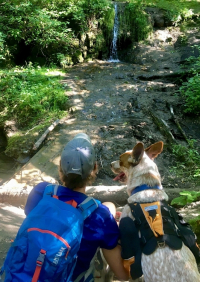 Mary's daughter, also named Mary, summarized the adventure:
"On that day, mom, me and my dog, Bogie drove to the trailhead in the Sheyenne State Forest between Lisbon and Fort Ransom. Armed with two walking sticks, plenty of water, a daypack with snacks and a travel stool so mom could take a break whenever she wanted, we headed onto the trail around 1:30 PM. We traveled the four-mile round trip hike over hills, grasslands and through wooded areas. When we arrived at the waterfall, we took plenty of photos, sat and admired the beautiful area, had a little picnic snack, and filled empty water bottles to pour on ourselves to keep cool on the hike back. We returned to the trailhead around 7:30 PM after a peaceful and relaxing hike."

What began as a whim turned into a full day excursion which will always be remembered thanks to an award-winning photo. It took extra planning, time, teamwork, and true grit to get the photo, which are not realized by the outside observer, but Mary and her family will never forget.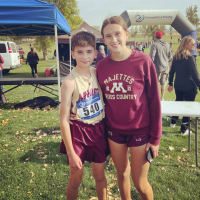 Similarly, 12-year-old Grey Ulrickson (Minot) had never entered a photo contest before either. His photo "Peekaboo" received the Under 18 Honorable Mention in the Wildlife category.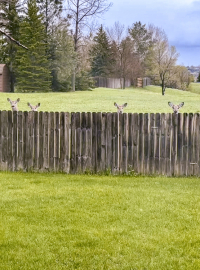 Grey was spending the day with his cousin at his grandmother's house in Minot when they noticed deer in the backyard, behind the fence. His mother Lyndsay said, "As an animal lover, Grey wanted a closer look, so he quietly made his way outside to capture his photo." Grey had a small window of opportunity and did not hesitate. He instinctively recognized the unique scene in front of him and quickly – yet carefully – took action.

Lyndsay said Grey was excited when he won the award. He immediately called his grandmother. Most people will simply see the images in the photo, but Grey, his cousin, and grandmother will always remember the fleeting moment, which Grey was able to capture.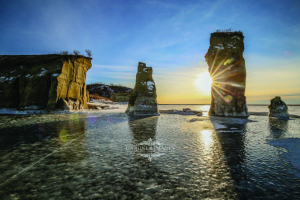 Unlike Mary and Grey, Laura Gardner (Washburn) has entered – and won – many photo competitions. Actually, this is the 4th time she has won awards from the ND Governor's Photo Contest. But she said winning "Best in Show" this year for her photo "Ice on the Rocks" was more than she expected and absolutely thrilling.

Laura and her family enjoy the outdoors but specifically she said, "we love going off the beaten path and truly enjoy taking the roads waaay less traveled." She calls her camera her fifth child because it goes almost everywhere with her. She said "I love capturing my family and the fun stuff we do together. As we'd go hiking or camping, various things would catch my eye such as how a leaf was laying on the ground or how the colors from the sunset radiate across the sky. Before I knew it, I was absolutely captivated and sucked into nature and landscape photography! Being able to document that precious time with my family is important and we all love being able to share our adventures and gorgeous views with our friends and family."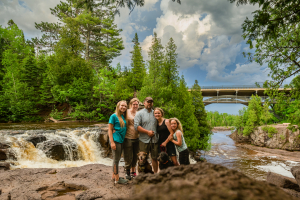 Laura's passion for the artform extends beyond her own world. She has begun to mentor new photographers by helping them with their equipment and encouraging them to enter contests. Laura's goal is to help artists realize what Mary and Grey discovered organically: it's not using the newest and most expensive equipment or setting up the perfect shot; the most important and overlooked part of the equation is the photographer themselves. Each person has their own interesting angle and unique perspective. It's just a matter of recognizing an opportunity when it presents itself and then taking action. 
The ND Governor's Photo Contest for Travel and Tourism is sponsored by ND Tourism, NDCA and North Dakota AAA.
##
The North Dakota Museum of Art is supported in part by a grant from the North Dakota Council on the Arts, which receives funding from the state legislature and the National Endowment for the Arts.
<< All News