<< All Events
Start: Monday, August 1, 2022
End: Friday, August 5, 2022
Categories:
Picturing Writing Virtual Workshops
August 1-5, 8:00am-12:00pm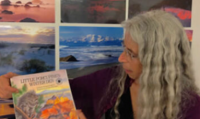 Picturing Writing: Fostering Literacy Through Art® is an innovative approach to teaching writing and fostering literacy designed to meet the needs of a wide range of learners. Developed by Beth Olshansky, this evidence-based model uses quality picture books and simple, captivating art techniques to teach the art of writing. Immersed in a rigorous creative process during Artists/Writers Workshop, students create their own quality picture books aligned with grade-level standards and curriculum. They learn to read like a writer and see like an artist. This August, Central Regional Education Association (CREA) and North Dakota Council on the Arts are once again teaming up to provide ND teachers with TWO Virtual Picturing Writing workshops at GREATLY REDUCED COST! (Limited number of seats available.)
AUGUST 1-3 (8:00am-12:00pm): For those new to the PW process - Introduction PW, Time of Day and Weather Poetry.
AUGUST 4-5 (8:00am-12:00pm): Looking for inspiration on how to integrate PW into other areas of the curriculum? Jump into the PW Research-Based Animal Trifold Unit.
TAKE BOTH for discounted fee!
Registration DEADLINE July 8, 2022.
For more information, detailed class description, and to register, visit the Picture Writing Virtual Workshop webpage.
*Read more about Picture Writing, a research-based approach to literacy!
*Watch a video with a PW teacher speaking about the process. 
*See exemplars created by North Dakota teachers during one of our past Picturing Writing Workshops.

Picturing Writing books created by ND students:
2nd Grade Students, Hebron Elementary, Instructor Kayla Walker
3rd Grade Students, Hazen Elementary, Instructor Tammie Vernon. Picturing Writing process used as tool for integrating informational text and Social Studies.
<< All Events