Medium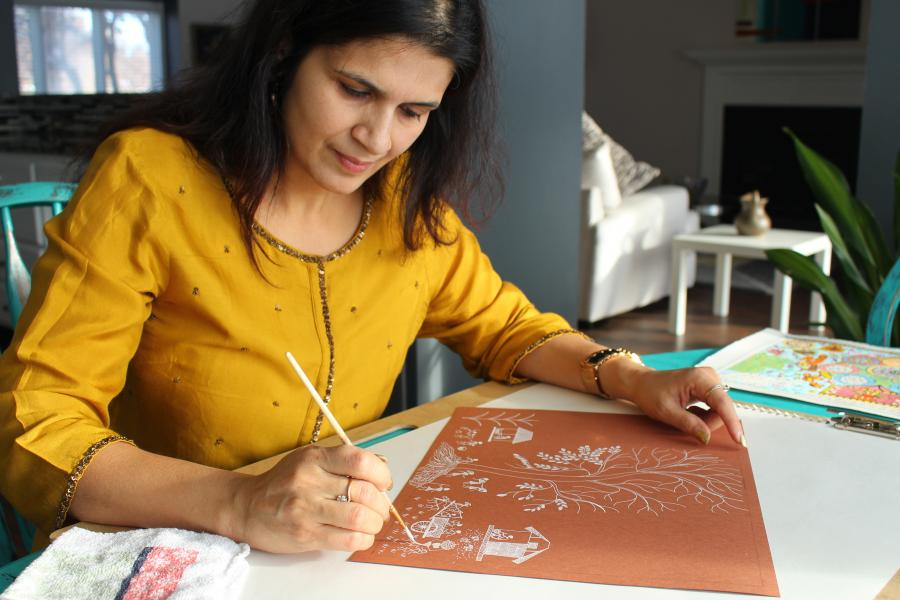 Medium
General Artist Information
Name: Shalini Agarwal
Artist Discipline: Folk
Grade Level Preference: 5-8
Geographic Availability: North Dakota, Minnesota
Fee per-day: $300 per day/Negotiable
Email: shalinidinkar@gmail.com
Phone Number: 701-404-3017
Biography
Shalini Agarwal is a visual artist working in Fargo, ND. She grew up In India and learned and gained experience from master artists in traditional folk arts. She is also an accomplished calligrapher. She has experience teaching art to young students and introducing them to art forms they might not be familiar with. She has helped students to create and learn basic skills in visual arts and helped them develop penmanship through calligraphy.
Teaching Philosophy
I like to use my art to provide an opportunity to students to understand and learn from new ideas, cultures and skills. I provide students with history of art form and its community, knowledge of materials and basic skills and then help students use the skills learned to express their own ideas and create art works. I strive to create a fun and open learning environment for my students.
Sample Residency Information
Residency Title: Warli Art (a traditional folk art from India)
Grade Level: For students Grades 5-8
Number of Sessions: 5, 50-minutes sessions
Description
Warli is a traditional folk visual art practiced since centuries in Western India. In this program, through examples of Warli art, students will learn about traditional arts and its ties to community life. They will develop basic skills in Warli art and create their own Warli artwork.
The objective of this program is to help students gain skills in a new art form and allow an opportunity to appreciate diversity in culture.
Short Lesson Plan
The students start out with learning about Folk art and communities. We talk about folk arts of German-Americans or Norwegian-Americans.
We learn about Warli people and their art.
Students then learn basic techniques, materials, traditional motifs of Warli art.
We will end the program with students identifying a theme and then creating their own artwork on the selected theme
A public display of artworks can be planned (optional additional session)