Medium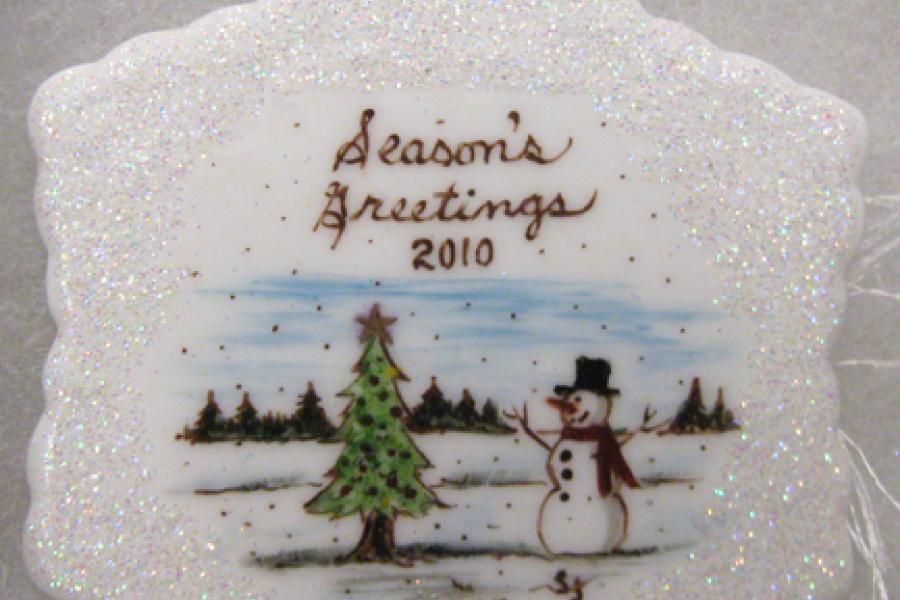 $25.00
North Dakota Council on the Arts Announces Fourth Annual Special Edition Ornament
The North Dakota Council on the Arts (NDCA) announces their fourth annual Special Edition Ornament which is now available for purchase. Sue Jacobson, the owner and operator of Sue's Originals & More in Bottineau, was commissioned by NDCA to create a one-of-a-kind, porcelain ornament. Porcelain painting is done with a process developed over 1,000 years ago. Sue meticulously paints each individual design several times; each painting is followed by exposure to heat of approximately 1,400 degrees, making the designs permanent. Her designs are one-of-a-kind. Sue was the 2001 recipient of the "Governor's Awards for the Arts in Arts Education." Her work is owned by many dignitaries throughout the nation and the world.
This ornament offers the opportunity to purchase a unique, hand-made Christmas decoration and/or gift, while investing in the arts across the state. Limited quantities will be available for $25.00 plus tax (includes gift box, shipping additional). Proceeds benefit the ND Cultural Endowment Fund, which was created by the State Legislature in 1979 to assist NDCA in providing artistic opportunities for citizens throughout the state of North Dakota.
For more information, or if you would like to purchase a Special Edition Ornament, please call (701) 328-7590.
Higher resolution images of the ornament are also available upon request.