Medium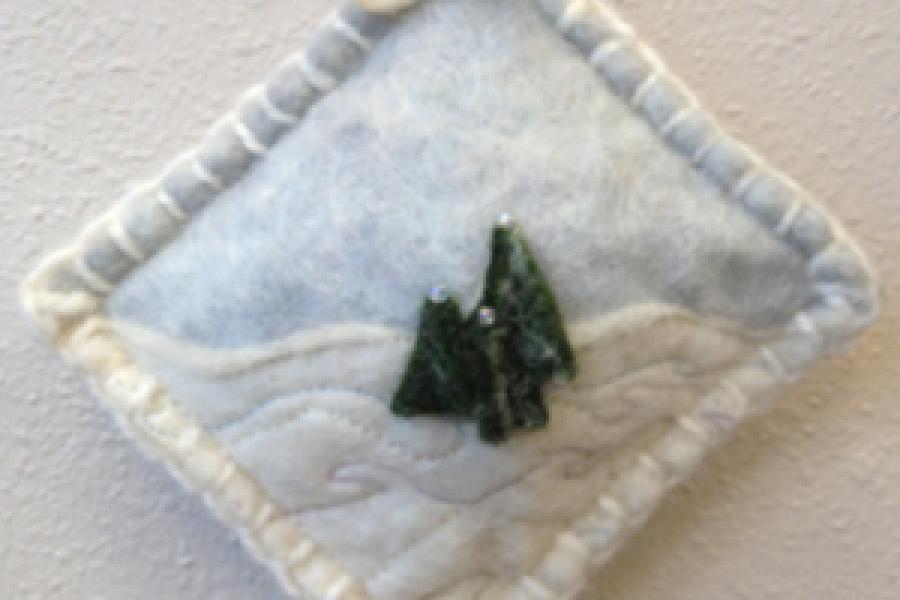 $25.00
The North Dakota Council on the Arts (NDCA) announces their seventh annual Special Edition Ornament which is now available for purchase. The Wooly Girls of Wales, ND, were commissioned by NDCA to create a one-of-a-kind, hand felted wool fabric ornament. To create this ornament, the sheep were shorn, the wool was washed, hand dyed, carded and felted. The sheets of hand felted wool fabric were then cut and sewn into this original Wooly Girls design.
In 1995, North Dakota Wooly Girls, a fine wool felt processing company, began offering its modest product line at the families' organic sheep farm in North Dakota. The first products were hand-made wool quilt batts and wool-filled comforters. Four years later, when founders Janet Jacobson and Diane Schill received a Sustainable Agriculture Research and Education Producer Grant, they expanded their study and strategy for adding even more value to their sheep's wool via wool felt production.
Thus launched a new era for the company, which already had built a local name and reputation with loyal clientele. With new cottage-scale equipment, the company quickly and efficiently turned its flock's wool into soft, highly durable felt. Jacobson's passion for art and sewing, fueled by her mother's lifelong talents as a seamstress, met with Schill's love of botany, biology and fiber arts to create some of the most wondrous and inspired clothing and home décor designs in the nation.
The ND Wooly Girls has been featured in the Grand Forks Herald, the Fargo Forum, North Dakota Horizons and North Dakota Living magazine. Its fiber arts design lines are also showcased regularly at galleries like Michigan's Heritage Arts Gallery and Minneapolis' Textile Center, and can be found at many other fine galleries and gift shops. From sheep to mill, each piece of wool felt has its own personality, as individual as art. To see a video of their wool-making process visit www.woolygirls.com/aboutVid1.html. For more information visit www.woolygirls.com; or to contact the Wooly Girls call (701) 283-5195; or e-mail: info@woolygirls.com.
This ornament offers the opportunity to purchase a unique, hand-made Christmas decoration and/or gift, while investing in the arts across the state. Limited quantities will be available for $25.00 plus tax (includes gift box, shipping additional). $11 from each ornament can be used as a tax-deductible donation to the North Dakota Cultural Endowment Fund, as proceeds will benefit this Fund, which was created by the State Legislature in 1979 to assist NDCA in providing artistic opportunities for citizens throughout the state of North Dakota.