<< All News
Thursday, September 8, 2022 - 04:30 pm
Categories: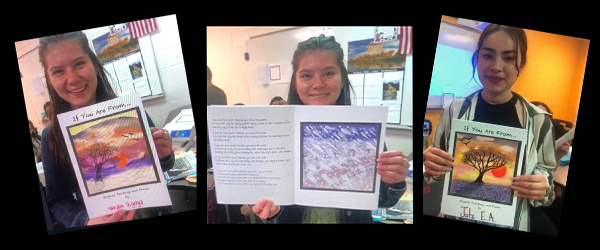 In May of 2022, NDCA Rostered Teaching Artist Beth Olshansky conducted a 9-day Virtual Picturing Writing Residency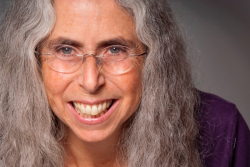 initiated by Williston High School Teacher and English Language Learning Coordinator LeAnne Tracey, which was made possible by an Artist in Residence grant from ND Council on the Arts. Picturing Writing: Fostering Literacy Through Art® is an evidence-based approach to teach writing and improve reading that has been proven effective for a wide range of learners. During this residency, Olshansky worked with 60 students who spoke a variety of languages including Spanish, Chinese and French. They used crayon resist watercolors to paint two pictures and then described them in two separate poems. The paintings and poems were compiled into a four-page accordion book.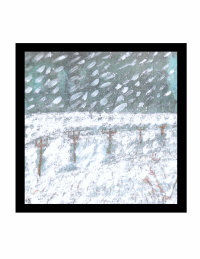 After the students received an introductory lesson on how to paint with watercolors, the first assignment was to paint a landscape or sea scape of their home country. Since most of the students at Williston High School are immigrants, the paintings depicted scenes from places including Mexico, Cuba, the Philippines, Kenya and Columbia. The next step was to imagine being inside the painting and then describe the experience in a poem. For the second assignment, the same process was followed except this time, the students were asked to paint a North Dakota winter landscape. Olshansky wrote, "Fortunately, we had just had two winter storms so the students knew well about snow and wind on the prairie."
The residency led to a variety of positive outcomes. Olshansky exclaimed, "Not only did the students increase their vocabulary, they learned that they are pretty good painters!" For some of them, it was their first time painting with watercolors and they were impressed by their own abilities. After the experience, one student went out and bought himself a whole set of supplies including watercolor paints, paper and brushes so he could paint at home. Another said he found a new career path – that of an artist.
When the residency ended, Olshansky wrote, "We are all very pleased and proud of the work the students did." Mrs. Tracey said she was "forever thankful" to Olshansky and NDCA for having secured this opportunity because so many of the students had never painted before. Mrs. Tracey plans to continue painting with her students in the future. 
Instead of just seeing English letters on paper, the students were taught to paint with their words. Not only are the students walking away with increased vocabulary and a newly acquired artistic skill, they have a memory book as a visual reminder of the places they once called home.
Sampling of Picturing Writing Booklets created by Williston HS Students
##
The North Dakota Museum of Art is supported in part by a grant from the North Dakota Council on the Arts, which receives funding from the state legislature and the National Endowment for the Arts.
<< All News