<< All News
Wednesday, June 8, 2022 - 11:00 pm
Categories: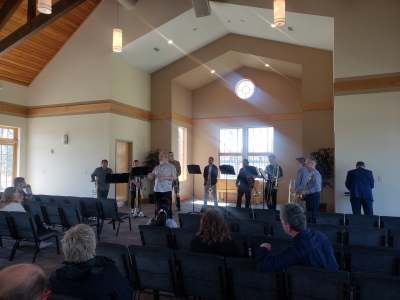 In the spring of 2022, University of North Dakota (UND) Teaching Assistant Professor, Author and Composer Dr. Chris Gable wrote an eight-part composition for the North Dakota Trombone Choir called Alarum Within. The project was made possible by a Special Projects grant from ND Council on the Arts and was meant to portray the negative impact on society caused by the COVID-19 Pandemic. 
Dr. Gable had previously composed music for trombone solos, works that included trombone and even a trumpet ensemble, but never for a group of trombones. Then, being a trombone player himself, he joined the ND Trombone Choir, and was motivated to write a piece for the group.
He explained, "trombone choirs, as a general rule, do not have a large amount of repertoire," so he wanted to write a multi-part trombone piece "to help enlarge the catalogue of new music for this unique ensemble." Inspired by the last two years of the pandemic, Dr. Gable composed an octet for six tenor and two bass trombones. The ensemble was divided into two separate groups in order to keep a constant supply of sound: one group plays while the other is resting.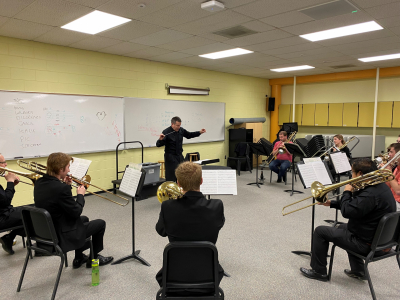 He said, "the piece is loosely based on Shakespeare's Macbeth, and as the title implies, speaks to the current unease in the internal life of many people, as well as to the general anxiety of American and world society. The director of the North Dakota Trombone Choir and fellow UND Teaching Assistant Professor, DMA Joel Pugh wrote, "Alarum Within is an incredible piece that paints a somewhat dark picture, which is something trombones do well! Dr. Gable really has captured the spirit of trombone perfectly." 
When Pugh applied for the ND Trombone Choir to perform at the International Trombone Festival in Conway, Arkansas, he thought it "could be a long shot." But then he learned the selection committee was looking for a group who would perform new music to help advance their medium. 
Pugh explained, the Special Project grant to compose Alarum Within, "graciously made possible by NDCA," not only resulted in a unique trombone composition for ND's ONLY trombone choir, "for the students to participate in a premiere written especially for them was an absolute invaluable experience."
---
Watch May 6th Premiere of Alarum Within performed by ND Trombone Choir:
<< All News