<< All News
Friday, June 9, 2023 - 12:00 pm
Categories:

NDCA board and staff members, June 2023 (not pictured: Christi Stonecipher)
Three times a year, North Dakota Council on the Arts (NDCA) board and staff come together for in-person meetings. NDCA hosts the mid-winter meetings at their Bismarck office, but late spring and early fall meetings are held in two other Regions of North Dakota. The standard board meetings are paired with community receptions and site visits to various locations to see public art, community projects, artist studios, etc. The goal of these visits is to give each arts community an opportunity to meet the board and staff of NDCA, listen, ask questions, describe current projects or issues faced, and discuss ways NDCA can support their work.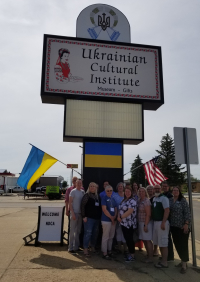 While every region has a unique arts culture that is growing at its own pace, NDCA was pleased after their visit to Region 8 in the late spring of 2023. The community reception in Dickinson was well-attended. Staff and board met and listened to a variety of artists and community members; artwork was on display; and there was an overwhelming enthusiasm for the arts.
On June 1, NDCA board and staff met at the Ukrainian Cultural Institute (UCI) in Dickinson (top photo) for their spring board meeting. Director Kate Kessel welcomed the group and gave an overview of UCI including information on the founding members and the goals of the organization. The remarks were followed by an authentic Ukrainian meal including sausage, pierogi (boiled & fried dumplings filled with cottage cheese, sauerkraut, or mashed potatoes), cabbage rolls, pyrizhky (baked buns stuffed with sauerkraut), and traditional kyiv cake (a dessert with layers of cake and cream). The meeting proceeded with staff presentations, an NDCA  budget discussion, and updates from Executive Director Kim Konikow.

That evening NDCA invited the arts community and the Region 8 public to join them at Fluffy Fields Vineyard and Winery for a community reception. NDCA Region 8 board member and Beach City Auditor Kimberley Gaugler and a staffer, Lea Massado, coordinated and publicized the event. The details were sent to multiple media outlets and shared across many social media platforms.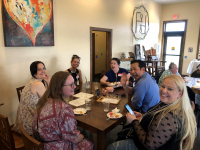 Thanks to their hard work, NDCA received a record number of RSVPs which resulted in an overflowing parking lot and a packed room at Fluffy Fields. Dustin Young, an artist living in Dickinson wrote, "I attended the reception to support local arts and to see/meet other community members in our area who are dedicated in supporting the arts. I was pleasantly surprised by the number of people who came out to show their support. It was everything and more than what I was expecting!" Terri Thiel, Executive Director of the Dickinson Convention & Visitors Bureau wrote, "the reception turned out very well, and I was able to connect with people from other past organizations that I have worked with, along with regional current contacts."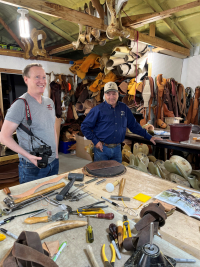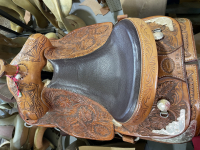 The next day, some of NDCA's staff - and a few others - stopped at various locations in the region to see outdoor public murals, artist studios, and talk with the folks involved. The first visit was to Dave Urlacher's studio in Belfield. Dave (pictured here with NDCA Folklorist Troyd Geist on his right) is a master saddle-maker who has made saddles for some of the top rodeo bronc riders in the nation. He explained the detailed process on how the saddles are made to fit each individual rider and the many materials that are used. Dave participates in NDCA's Folk and Traditional Arts Apprenticeship Program, which seeks to help preserve traditional folk art forms in North Dakota. His FY23 apprentice Lavy Steiner was also in attendance and showcased her recent saddle work as well.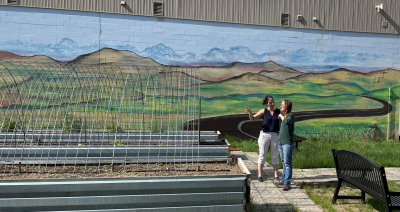 The group then traveled to Bowman to meet Mayor Lyn James and to see the art-filled (inside and out) Bowman Regional Public Library and the Community Garden, including a mural painted by Marie Snavely. Then they visited three artist studios: Sarah Snavely - ceramics, Chris Fulton - watercolor pencil landscapes, and Marie Snavely - paintings. Afterward, several other community members joined in for a shared meal.
On the last day, NDCA's group and Arts Across the Prairie Region 8 stakeholders visited seven sites that might be a possible locale for a large-scale rural installation. This came after many months of discussion focused on the region's cultural heritage. Region 8 covers a large swath of land so more sites in the eastern part of the Region are still to be explored.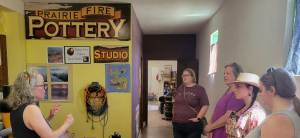 The final city on the itinerary was Beach, where the group had lunch and went on to visit Tama Smith's Prairie Fire Pottery Studio. While the kiln was fired up, Smith shared the creative process she follows.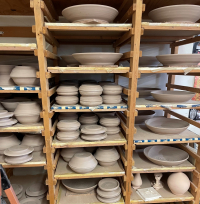 After the eventful 3-day tour, it was evident that the arts community in Region 8 was on track to meet the goals of NDCA's Strategic Plan, including Art & Creative Process for All, Vibrant Communities, Thriving Arts Ecosystem, and Excellence & Innovation. Visit NDCA's About Us webpage to read the entire 2020-2025 Strategic Plan.
The fall 2023 board meeting will take place in Nome and will also include a visit with the community, tentatively planned for Thursday, October 6. For more information about upcoming NDCA events in the various regions across North Dakota, visit NDCA's meetings page and watch for social media announcements.
<< All News