<< All News
Thursday, December 8, 2022 - 10:30am
Categories: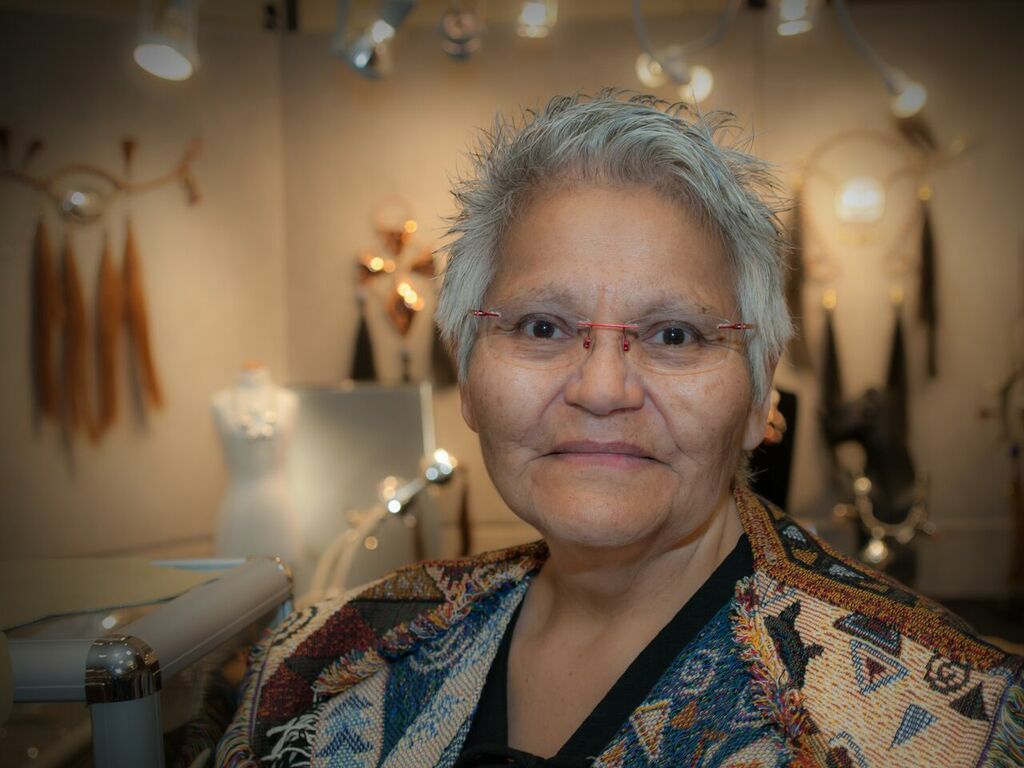 Nelda Schrupp was born in 1952 and lived on the White Bear First Nations Indian Reservation in southern Saskatchewan, Canada. The youngest of 12 children, she moved to the United States at age 17 after her father died. She met her husband in Kansas and eventually moved to North Dakota where she decided to go to college.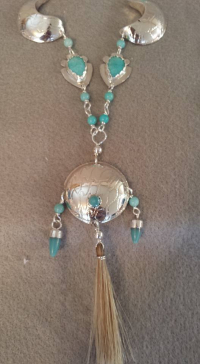 When she registered for classes at the University of North Dakota (UND), Nelda selected biology but later changed her major to art after discovering that she worked better with metal than with numbers. In 1990, she graduated from UND with a Bachelor of Fine Arts in Visual Arts, minoring in Anthropology. She went on to get a Master of Fine Arts in 1993 with an emphasis in metalsmithing and sculpture-making.
In graduate school, she decided to create her own contemporary style of rattles, also known as noisemakers, to give homage to her Native culture. Traditional rattles, which were unique to each tribe, were used by The Medicine Men to pray to the four directions (north, east, south and west or NESW) and the sound would help to carry their prayers to The Great Spirit or Grandfather. But since rattle-making was traditionally a man's birthright, she wanted to create something different from the sacred rattles used for ceremonial purposes. She developed her own process, including soldering, acid washes and polishing. 
Unlike most jewelry-makers, the focal point for Nelda's pieces is the metal, not the jewels or stones. She cuts out matching shapes, often geometric, and solders them together to create a hollow. Before closing the space, she places little beads inside that consist of melted down scrap metal; the size and quantity have a significant effect on the sound emitted from each rattle.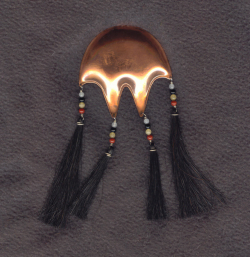 During an interview with Nelda in Season 13 of Prairie Public's Prairie Pulse program in 2015, she explained that she begins each project with a thumbnail sketch, but it often does not match the end result. She said, "The piece takes on a life of its own and I just kind of follow it." All the elements of her art pieces have meaning and special significance as it relates to Native culture. She loves to educate admirers of her work as a way to pass on culture. For instance, she often incorporates the colors of red and yellow because they represent physical and spiritual power.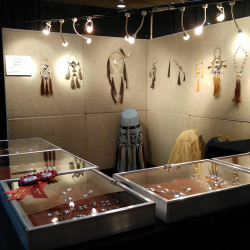 North Dakota Council on the Arts (NDCA) conducted a call for art in 2001 and Nelda's noisemaker/necklace (pictured here) was selected as the award given to recipients of the biennial ND Governor's Awards for the Arts. During a recent interview with Nelda, she explained that the metal piece symbolizes a cloud (or umbrella in modern terms), with the four points coming down signifying the four directions (NESW). The four beads represent all nations, and the colors of white, black, yellow, and red carry meaning as well: peace/happiness, death, power, and life/earth (respectively). Finally, the black horsehair was incorporated because horses are considered sacred in Native culture. Given by Mother Earth, horses provide speed and mobility for hunting, warfare, and travel to other campsites.
Nelda sells her metal artwork online and at various art shows both locally and nationally, focusing on the southwest during the winter months. She is also an accomplished sculptor and clothing creator. Her award-winning pieces have gained national attention and are currently on display at museums including the Smithsonian Institution's American Art Museum in Washington, DC; the Peabody Essex Museum in Salem, MA; and the National Museum of the American Indian in New York, NY. Nelda is honored to have her works accepted into these prestigious museums because "it certifies that I am a true artist and other people recognize me as an artist." She told her grandkids to take their grandkids there one day so they can tell them, "This is what great, great grandma made." More than a legacy, she said she is "leaving a history for them to enjoy."
##
The North Dakota Museum of Art is supported in part by a grant from the North Dakota Council on the Arts, which receives funding from the state legislature and the National Endowment for the Arts.
<< All News