<< All News
Friday, March 10, 2023 - 11:30am
Categories: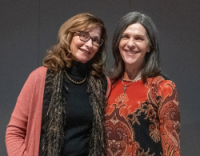 Rebecca (Schumacher) Engelman was born and raised in Bismarck, graduating from St. Mary's Central High School. She earned a Bachelors in Elementary Education from the University of Mary and Master's in Art Education from the University of Minnesota.
For the first 24 years of her career, "Mrs. E," as she was called, worked as the K-8 visual arts specialist at Cathedral Elementary School in Bismarck. During 3 of those years, she also worked as Adjunct Instructor at the University of Mary. She not only provided art instruction for students; she also provided professional development for teachers who were integrating the arts into their core curriculum.
*Photo L to R: Former Cathedral Elementary School Principal and ND Poetry Out Loud Emcee, Elizabeth Gross with Rebecca Engelman.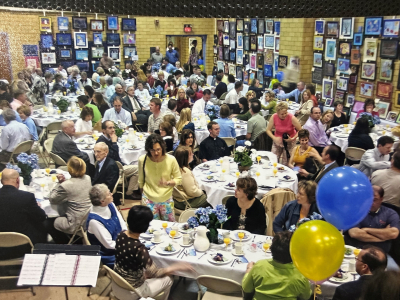 Rebecca stated, "The accomplishment that had the most profound impact on my life and of which I am most proud, were the years I spent teaching visual arts to K-8 youth. In 1986, with support from a visionary new principal and dedicated teachers, we worked to transform a struggling school into a welcoming learning environment. As the visual arts specialist, I knew I could make a difference by initiating and planning arts-based learning activities that were personal to each student. Works of art that reflected students' personal hopes, thoughts, and dreams proved to be a source of pride and heightened self-esteem, and in turn contributed to student success and a positive school culture. Student art was displayed and celebrated throughout our school hallways, at our annual art show, and in the students' homes and parents' offices. Students' creations were no longer 'refrigerator art,' but rather masterpieces that deserved to be displayed with pride. My experience as a teacher taught me the value of identifying the needs and gifts of those placed in my care which in turn allowed me to build relationships and create a healthy environment for growth to occur."
In 2011, Rebecca was hired at North Dakota Council on the Arts (NDCA) as the Arts in Education Director. She was responsible for developing, managing, and coordinating NDCA's arts education policy and advocacy efforts. Rebecca ran multiple grant programs, facilitated workshops for teaching artists, and cultivated networks to connect people and organizations across the state of North Dakota.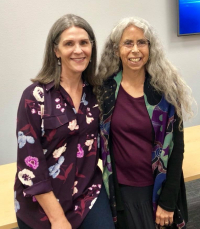 "During my time as Arts in Education Director, I am most pleased and excited about the new partnerships and programs that developed during COVID. When systems fall, new opportunities arise! And when COVID forced schools to close and Arts in Education projects were cancelled, I seized the opportunity to provide alternative ways for students to participate in the arts, especially for those living in rural areas and/or are underserved. Working closely with the ND Education Associations was key. As a result, we now provide funding for arts programming in afterschool programs and the development of online afterschool art lessons," said Rebecca.
*Photo L to R: Rebecca Engelman standing with teach artist Beth Olshansky at a Picturing Writing Workshop.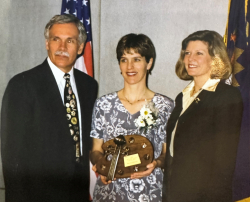 As recognition for her talent, hard work and dedication, Rebecca, pictured here with former Governor and First Lady Ed and Nancy Schafer, received a ND Governor's Award for the Arts for Individual Achievement in 1999. She was also selected to receive a Bush Fellowship from the Bush Foundation in 2010 to support her further development as a leader in the field of arts in education.
In her next chapter, Rebecca is planning "to develop her own skills as an artist, practice being 'grandma', and grow a bigger garden." She said, "I will miss the wonderful staff at NDCA and working relationships developed through my work at the Council, including the folks at Humanities ND, Central Region Education Association, ND Afterschool Network, South East Education Services, Northeast Educational Services Cooperative, and the ND STEM Ecosystem."
<< All News