<< All News
Thursday, September 7, 2023 - 10:00 am
Categories:
*Stories marked with an asterisk were written by experienced contributing editors with the goal of showing North Dakota's diversity.
---
- - - - A first-person account by Togolese Artist and ND resident Hamzat Koriko, Ph.D.
In the vast tapestry of artistic expression, some individuals stand out for their remarkable ability to weave diverse cultural threads into a harmonious, artistic narrative. I am honored to have my name be mentioned as one of them. I am a multidisciplinary artist from the West African nation of Togo and found a second home in the heart of North Dakota. Driven by my passion for playwriting, Togolese drumming, and storytelling, I have managed to carve a unique niche in the artistic landscape of my native land of Togo and my adopted North Dakota.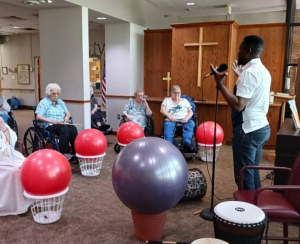 Born in Togo, a land rich in tradition and cultural heritage, my journey to becoming a renowned multidisciplinary artist began with the rhythmic beats of Togolese drumming. These age-old rhythms, deeply rooted in the history and rituals of my homeland, ignited a spark within me at an early age. With dedication and a thirst for knowledge, I mastered the intricate drumming techniques by watching people play, immersing myself in the ancient art form. The drums became my voice, allowing me to communicate with people unfamiliar with my cultural heritage. I believe I have two hearts: one in my chest, the other in the drum. 
However, my artistic pursuits continued beyond drumming. Driven by curiosity and a desire to explore new avenues of creativity, I delved into theater. My plays became a canvas on which I painted vivid tales that resonated with universal themes such as love, war, and social justice while maintaining a distinct Togolese flavor. One of my notable works, "When the Bird Takes Flight," explores identity, displacement, and the search for belonging. Through storytelling, I was able to bridge the gap between my African roots and the global stage, fostering a deeper understanding of the human experience.
On September 24, 2004, I embarked on a new chapter in my life's journey when I landed in Fargo, North Dakota, as a green card holder, having come through the Diversity Visa program. My arrival in this Midwestern state marked the beginning of a transformative period both personally and artistically. North Dakota, often associated with its rugged landscapes and close-knit communities, proved to be an unexpected but fitting backdrop for my creative endeavors.
The smooth transition to North Dakota wasn't surprising, given my prior residence and theater work in France, which had acquainted me with Western urban life. However, Fargo's relatively small size struck me. In the initial days, nothing was exceptionally noteworthy about my time in Fargo except for the linguistic challenges stemming from my limited speaking proficiency. Despite this, my writing and listening abilities proved sufficient to gain admission to North Dakota State University the following year, where I joined the Theater Department. 
In this welcoming embrace, I found fertile ground to cultivate my passion for the arts. At NDSU, I was inducted into the Tapestry of Diverse Talents for my contribution to the community. In 2010, my play, "When the Bird Takes Flight", was invited to the Kennedy Center American College Theater Festival (KCACTF), where I also led a workshop on directing techniques. These recognitions contributed not only to my own artistic growth but also to the cultural enrichment of my newfound community. My plays, infused with my Togolese heritage and French directing techniques, struck a chord with local audiences, offering a fresh perspective and an opportunity for cross-cultural dialogue.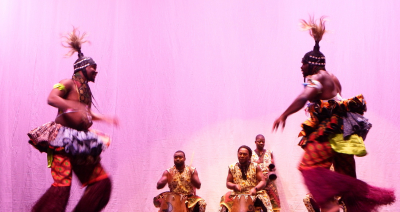 As my reputation flourished, of course not without challenges and hurdles, I embarked on an ambitious mission: to celebrate and honor the stories of new Americans through international art festivals. From 2012 to 2020, I organized the Annual African Arts and Cultures Festival in Grand Forks. During the festivals, Hal Gershman, Reginald Tarr, Aisha Hassan, and Amal Abdi were celebrated for their support and contribution to the well-being of immigrants in Grand Forks. The festivals, organized with dedication and vision, provided a platform for immigrants and refugees to share their narratives through various artistic forms. By creating a space where diverse voices could be heard, I empowered my fellow new Americans to embrace their identities and enrich the cultural mosaic of North Dakota.   
My journey stands as a testament to the boundless possibilities that arise when cultural heritage converges with creative passion. As I continue to build bridges and celebrate new Americans through international art festivals, I hope to create a legacy that shines as a beacon of inspiration for artists and communities alike, reminding us of the transformative power of art in fostering connections and nurturing the human spirit.
 
##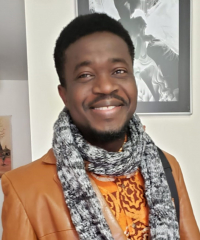 About the Author
Hamzat Amoussa Koriko is a dynamic artist with a deep-rooted passion for cultural exchange and a diverse range of artistic talents. Holding a Ph.D. in Educational Foundations and Research from the University of North Dakota, Hamzat's expertise extends beyond the boundaries of art, allowing him to make a profound impact in various fields.
 
As the Chief Executive Director of KORI Art, located in Grand Forks, ND, Hamzat spearheads an organization that celebrates and promotes artistic diversity. He also serves as the Director of the New American Arts and Cultures Festival, where he curates a platform to showcase the rich tapestry of artistic expressions from around the globe. 
 
From 2010 to 2021, Hamzat was the CEO of African Arts Arena, a non-profit organization committed to nurturing creativity and fostering cultural appreciation. His leadership has been pivotal in cultivating an environment supporting and uplifting New American artists.
Connect with Hamzat on Facebook, Instagram, and LinkedIn.
<< All News