<< All News
Tuesday, June 27, 2023 - 03:30 pm
Categories: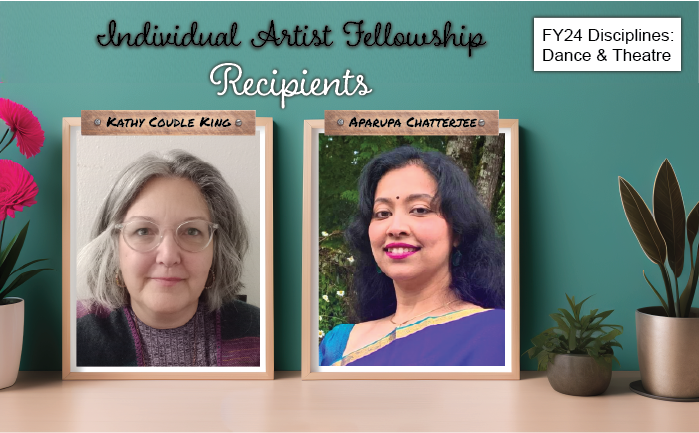 North Dakota Council on the Arts (NDCA) has awarded two Individual Artist Fellowships, each in the amount of $5,000 to Kathleen Coudle King of Grand Forks and Aparupa Chatterjee of Fargo. Eligible Disciplines for FY24 were Dance and Theater (all forms, including traditional). King (playwright) and Chatterjee (choreographer/dancer) were recommended by a review panel whose selections were approved by NDCA's Board of Directors.
Kathleen Coudle King, Playwright
"Kathy" Coudle King plans to write a collection of monologues titled, "Whispers in the Wind: North Dakota's Disappeared Speak" which will tell the life stories of those who seemingly disappeared after they became associated with mental institutions in North Dakota. King explained, "the disappeared are those who were erased from family history or only whispered about to the closest of relatives and friends. They are the ones who stand nameless in the family photos. They are the (almost) forgotten."
King continued, "as I promote my newest play, 'Retail Therapy: 700 years of mental health care,' it has begun to get people talking. Individuals have pulled me aside to share stories of a relative or a neighbor who was spoken about in 'whispers.' A woman in Fargo told me about an aunt who spent two months in a psychiatric ward, but when she returned home people avoided her, hence making her feel invisible. Another woman in Grand Forks told me about a friend who spent more than 30 years in Grafton State Hospital, even though she was not mentally ill or cognitively impaired. She was disfigured at birth and shut away from mainstream society. Disappeared."
"I will spend my fellowship collecting more stories, including researching the graves at Jamestown State Hospital. I will also make two visits each to two North Dakota communities in fall/winter 2023. I will read excerpts from 'Retail Therapy' to prompt discussion. Audiences will be invited to join a story circle/writing workshop after the reading, or visit privately with me to share stories so I may craft them into my 'Whispers in the Wind' project."
"In spring/summer of 2024, I will return to the same ND communities to preview a solo show containing monologues drawn from those fall/winter visits. 'Whispers in the Wind' will be crafted with the ultimate goal of producing it at a fringe (part of a larger) festival. Having a show in Minneapolis, New York, Winnipeg -- or even the Edinburgh Fringe Fest -- would exponentially increase awareness of my work and expand my audiences beyond ND's borders. Creating this piece is an ideal way to stretch myself as an artist." ~ Kathleen Coudle King, Managing Artistic Director, Empire Theatre Company and Associate Teaching Professor in English at the University of North Dakota
Aparupa Chatterjee, Choreographer/Dancer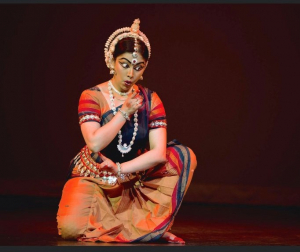 Aparupa Chatterjee is a classical Indian "Odissi" dancer who will conduct a project called "Nach" (pronounced "nutch", meaning 'dance' in Indian) which will be an interactive, cumulative dancework presented over a year. Chatterjee said, "Nach will comprise of new and ongoing traditional/ neo-classical choreographic works through solos, duets, and group presentations. It will incorporate a variety of community outreach activities that will allow the community to experience Odissi directly by providing open access to workshops, masterclasses, conversations, behind the scene interactions via digital media, and glimpses of online performances. In addition, I will mentor students using Odissi vocabulary, Sanskrit, meditation & yogic movements." 
Chatterjee explained, "This fellowship is key to my initiation of the introduction of one of the most graceful and unique South Asian traditional/folk classical forms, Odissi, for the very first time in the communities of North Dakota. Odissi is unknown in the Dakotas and has rarely been staged in the upper mid-west. This fellowship will provide me a unique opportunity to display my art form and increase the visibility of my talent within potential audiences. I aim to introduce North Dakotan audiences to ancient Indian traditions of dance, its enrichment, cultural experience & preservation by creating new & pursuing ongoing original artwork within the artistic discipline of Dance."
"This fellowship will highly impact my career in the most positively artistic way. It will not only add to my dance works, expand my repertoire, enhance my choreographic potential and my capacity to improve my skills, but also support me financially in my endeavors as a practicing individual artist and resident of North Dakota. " ~ Aparupa Chatterjee, Artistic Director, Odissi Dance Company
---
The Individual Artist Fellowship program recognizes established artists residing in North Dakota with a monetary award. This program is designed to support professional artists with outstanding talent and ability to improve their artistic skills and enhance their career opportunities. Fellowships for Visual and Traditional artists will be awarded in 2024.
 
For more information on NDCA's grant programs please visit NDCA's Grants at a Glance page or call 701-328-7590.
###
 
The North Dakota Council on the Arts is the state agency responsible for the support and development of the arts throughout North Dakota and is funded by the state legislature and the National Endowment for the Arts.
<< All News