<< All News
Wednesday, June 22, 2022 - 03:30 pm
Categories: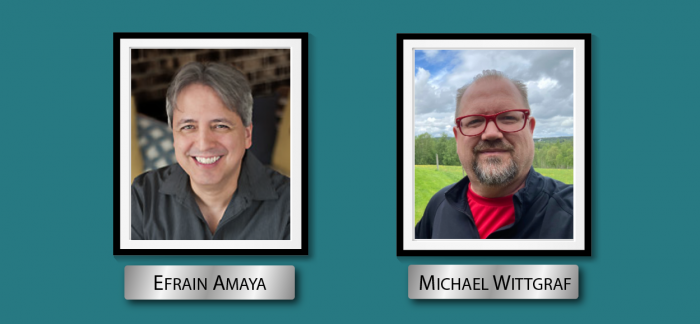 North Dakota Council on the Arts (NDCA) has awarded two artist fellowships, each in the amount of $5,000. The Individual Artist Fellowship recipients in Music are Efrain Amaya of Minot, and Michael Wittgraf of Grand Forks. Amaya and Wittgraf were recommended by a review panel whose selections were approved by NDCA's Board of Directors.
 
Efrain Amaya, Music
Amaya will compose a "cycle of songs" for voice and piano. The idea was inspired by North Dakota's four seasons. Amaya explained, "the work will provide a new and unique musical experience or perspective on the climate and passage of time, where people flourish in strength and remain relatively remote because of one of those seasons: winter." The songs will premiere in the spring of 2023 in Minot, then in Grand Forks and possibly other locales.
 
"My career as a musician has developed between orchestral conducting and the art of music composition. In 2015 I was appointed Director and Conductor of the Minot Symphony Orchestra which has brought very new perspectives and experiences into my life. I could say that I am in a mature phase of this work, and I enjoy tremendously the challenge of creating new and unexpected pieces."
"As a member of a global community, I am continuously influenced by multiple sources: the twenty century master composers of our Western culture, like Ravel, Debussy, Stravinsky, Bartók, as well as Latin American composers such as Ginastera, Revueltas, Villa-lobos and Antonio Estévez, but also those from the old Western world (Bach, Mozart, Beethoven). It has been said of my work - i.e. Constellations, a Chamber Opera - that it usually has a lyric, or poetic, almost cinematic quality, where emotions and imagery surface from the musical gestures. In synthesis, this is a time when art and music travel fast and easily, and I feel the excitement of being part of it, as a creator, audience, critic and educator." ~ Efrain Amaya, Director and Conductor of the Minot Symphony Orchestra
Michael Wittgraf, Music
Wittgraf stated, "I will travel across the state of North Dakota, recording sounds in a variety of locations for use as source audio material in the creation of several musical works on computer. The sounds from each location will be used in their own sets of musical works, creating a kind of audio signature in the music for each place. For example, if audio is recorded in the Medora area, then the set of musical works associated with Medora will use only those audio recordings." Wittgraf initially plans to do musical performances and presentations in Grand Forks, Griggs County, Nelson County, and Medora.
 
"I have worked in many areas of music and sound, from classical to rock, traditional genres to computers, always in search of interesting and attractive sounds to bring to the audience. Most recently, I have become interested in creating computer music specific to particular locations, using the sounds native to those locations. The practice of archiving local sounds, much the same as the commonplace activities of archiving documents and photographs/videos of a place, has fascinated me for some time. A recent work of mine, Hearing Corwin Hall, does precisely this by using sounds associated with the demolition of a building, including sounds from inside the building prior to its demolition, as well as the sounds of the demolition itself."
"My career to date since I arrived in North Dakota has been focused externally, showcasing my music in national and international venues, collaborating with national and international artists, and bringing those experiences back to my North Dakota students. The time is right to reverse the process, bringing the knowledge that I have gained over my career back home, showcasing to our communities what the state has to offer in terms of sound resources." ~ Michael Wittgraf, UND Music Department Chair
 
The Individual Artist Fellowship program recognizes established artists residing in North Dakota with a monetary award. This program is designed to support professional artists with outstanding talent and ability to improve their artistic skills and enhance their career opportunities. Fellowships for Theatre, Dance and Folk/Traditional artists will be awarded in 2023.
 
For more information on NDCA's grant programs please visit NDCA's Grants at a Glance page or call 701-328-7590.
###
 
The North Dakota Council on the Arts is the state agency responsible for the support and development of the arts throughout North Dakota and is funded by the state legislature and the National Endowment for the Arts.
<< All News